DLR Group Holds Justice Forum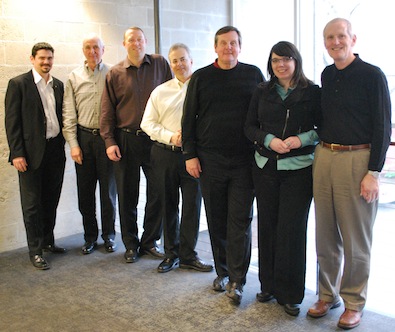 Twice annually, DLR Group — a national architectural, engineering and planning firm that works in a variety of sectors including hospitality, retail, mixed use, education, sports, health care, civic and detention — holds forums with its regional sector leaders for business planning and the exchanging of ideas.
"It's an opportunity to push our national thought leadership together and look at best practices from around the country," says David Boehm, a senior principal at DLR's Phoenix, Ariz., office, and national Justice+Civic forum leader. "The responsibility of each forum member is then to lead their region."
In late March, its Justice+Civic Forum met at DLR's Sacramento, Calif., office. In attendance were Jonathan Pettit, the firm's managing principal from the Seattle office; Joseph Haines, senior principal at the firm's Omaha, Neb., office; Darrell Stelling, a principal at the Sacramento office; Erica Loynd, an associate architect at the firm's Seattle office; Bill Valdez, a principal, also from the Seattle office; Timothy Gibson, a principal from the Orlando, Fla., office; and Boehm.
With its historical roots dating back more than a century ago, DLR Group today has seen its primary expansion occur over the past four decades when — in 1966 — Irv Dana, Bill Larson and Jim Roubal formed Dana, Larson and Roubal and Associates, a full-service architecture and engineering firm. Working from the Midwest, the firm acquired new offices. Today the firm's 508 employee span 20 offices across the country and in China.
"The forum keeps the offices corralled in a unified fashion," explains Haines. "It keeps us thinking as a unified firm."
When it comes to justice/civic projects, Boehm says the main topic of discussion right now is funding. "That is, where the funding is and where those available projects are. One of the reasons we are in California for this meeting is because of the whole series of AB900 projects that are coming out."
Stelling says there are a number of projects that are going through different phases and DLR Group is figuring out which ones best suit its practice.
"The ones we are looking at range from $30 million to $150 million and up. The biggest project is more than $200 million in Riverside County, Calif."
This particular project will include the construction of both a building addition of approximately 420,000 square feet and a remodel of 40,000 square feet of space for inmate housing and support facilities for the County of Riverside Sheriff's Department. The addition will result in a net gain of 1,250 new beds with support facilities and the renovation will be for the existing 353-bed facility and its existing support spaces. In addition, approximately 200,000 square feet of parking space would be built for the facility.
"At the present time — in dollars — California has the most potential projects," adds Boehm. "But over the past three to five years, we have been seeing projects roll over year to year without funding."
Lack of Funding
Citing the lack of funding for projects as its biggest challenge, Boehm says DLR Group has been tracking projects that have been on the books since 2007.
"But I think we are at the bottom of the recession. Funding for justice and civic projects didn't bottom out until 2009 and early 2010 because the funding was already in the pipeline. Now things are starting to improve and I think many of those projects will start to come forward as we continue into 2013 and 2014 as the market improves. For instance, two years ago Arizona was facing a deficit of something in the neighborhood of $1 billion. Now the state has approximately $500 million in the bank to start solving some of the issues. That type of situation is starting to happen around the country."
Various areas of the country are rebounding faster than others. For instance, Valdez reports that in the Northwest, there has been pent-up demand that was there before the recession hit.
"We are starting to see some municipal entities, as well as counties, with quite a few projects going out for public bond/public vote over the next six to 12 months, so that's positive," he says. "The southeast may not be seeing as much."
Gibson adds that most activity in the southeast is in Georgia because of the public funding available. "They are identifying projects in a five-year cycle that they want to fund from a taxation standpoint."
And, while Texas continues to be strong, Arizona and Nevada are still suffering greatly from the housing bubble.
"I think those areas that had a very quick upswing suffered a dramatic down swing," says Boehm. "Because of the housing bubble, the construction industry was hit harder than any other industry."
Trends in Financing
Still, things seem to be improving, albeit slower than most would like. As a result, the newest trend being seen is alternative financing.
"Hawaii is looking at this," continues Boehm. "There is a state prison in Maui that we designed that has not been funded, so we are looking at the possibility of alternative financing for that project. We see companies trying to develop projects so there will be more activity on the private financing side of things."
Adds Pettit, "We are also seeing more SRM (sustained-maintenance-repair) projects. A county may not be able to build a new jail, but they have to invest in repairs in the infrastructure that they currently have. We are seeing a lot of more work order contracts for that."
And though sustainability may no longer be considered a trend, more of DLR Group's clients have expressed interested in renewable energy and daylighting.
"We have always been a very sustainable focused firm even before LEED was a trend," Boehm says. "Prisons and jails operate 24/7, 52-weeks-a-year so the opportunity to save energy is actually greater. We are seeing clients move to more energy efficient buildings. The project we designed in Hawaii is very sustainable. It used a lot of natural ventilation, which is not something most prisons and jails use for security reasons. But that was important to that client and it fits in well with the climate there."
Haines says that from an architectural side, the firm is seeing more interest in water saving and daylighting.
"Clients want a building that is going to be cost effective in its development and operations. The trend is trying to find a way to keep costs to a minimum as well as be good stewards to the environment."
As for what the near future holds for the DLR Group, Pettit says the firm is looking forward to expanding its presence in China.
"Our five year plan is to become an international company. After China, we are looking at the Middle East, Africa and India. Additionally, we are open to the emerging economies in Europe or Canada."