Illinois' Only Supermax Facility Set to Close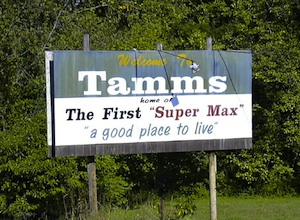 TAMMS, Ill. — Illinois Governor Pat Quinn has proposed closing eight of the state's correctional facilities, including Tamms Correctional Center in Tamms, Ill., the state's only supermax prison. Employees at Tamms have recently received pink slips and the facility is expected to close by Aug. 31, 2012.
The decision to close the prison weighed heavily on the state's budget and also careful thinking as to what the state needs in terms of correctional facilities. It currently costs Illinois' taxpayers more than $26 million a year to hold nearly 180 maximum-security inmates at Tamms, according to a report by the John Howard Association (JHA), Illinois' only non-partisan prison watchdog group.
JHA compiled a report of the findings at Tamms during their visit to the facility and has since agreed with Gov. Quinn's proposal to shut down the supermax prison and move the nearly 200 maximum-security inmates at Tamms to the Pontiac Correctional Center in Livingston County and the Menard Correctional Facility in Menard, Ill. Minimum-security inmates would then be sent to other minimum-security facilities in the state.
"Pontiac has the available bed space and is a maximum security facility equipped to handle the security needs of these offenders," said Illinois Department of Corrections spokeswoman Stacey Solano.
The need to close the facility comes from the state's need to cut back spending and minimize the $8.5 billion debt that was recorded in a February 2012 report.
"These conditions of confinement are not only expensive to sustain, but they also produce harmful effects that go beyond the legitimate purposes of punishment of incapacitation, deterrence, retribution, or reformation," according to the report.
Most inmates at Tamms spend 22 to 23 hours alone in their cells per day without social interaction, human contact or sensory stimulation. Some Tamms inmates have spent more than a decade in isolation, according to JHA's report.
Gov. Quinn's decision to close Tamms came after a request from the DOC to cut more than $110 million from its fiscal year 2013 budget, an almost 10 percent reduction from 2012. Tamms currently costs taxpayers $65,000 a year for every inmate housed at the facility — the highest cost of any DOC facility.
Some opposed the idea of closing Tamms, and thought too many jobs would be lost if the facility were to be shut down. Fortunately, IDOC Director Salvador Godinez created a plan that would offer Tamms' employees the option of working at nearby facilities once the supermax prison is officially closed.
Tamms currently employees 15 nurses and one part-time psychiatrist to care for fewer than 200 maximum-security inmates, while Vienna Correctional Center, a male minimum-security prison, has only 10 nurses and one part-time psychiatrist to care for a population of more than 1,600 inmates. When Tamms closes, those working at the facility will be able to transfer to other facilities while helping to fight the current understaffing issues. There are currently a total of 293 staff members at Tamms, according to Solano.
"The closure plan, as outlined by Director Godinez, will help alleviate this problem by reassigning Tamms' staff to other facilities where their assistance is badly needed," according to the report.
There are five other correctional facilities within 90 miles of Tamms that current Tamms employees may be transferred to after the supermax's closure at the end of August. There are currently enough vacancies throughout the state's system for all Tamms employees to transfer to a new facility, says Solano.
Solano explained that growing Medicaid and pension costs continue to squeeze available state resources, and the department and many other state agencies have been tasked to reduce spending by nine percent.
"While the Governor's proposal is supported by strong fiscal arguments, JHA believes that his decision is not just about cutting costs. By closing Tamms, Illinois will take a critical step toward reforming the state's prison system to the benefit of public safety, security, and the state's fiscal health," according to the JHA report.