Facility of the Month: Washington's SCORE Jail

Facility Name: South Correctional Entity (SCORE Jail)

Construction Budget: $54 million
Number of Beds: 822
Area (square feet): 163,830 GSF (including courtyards)
Start Date: December 2009
Completion Date: July 2011 (Substantial completion)
Owner/Operator: SCORE
Owner Representative: Shiels Obletz Johnsen (SOJ)
Architectural Firm(s): DLR Group

—

Larry Ahern, Bill Buursma
General Contractor: Lydig Construction
Project Manager(s): Hans Hansen
Engineering Firm(s): Struct. & Elec. — DLR (see above)
Civil

—

KPFF Consulting Engineers
Mechanical — Glumac
Detention Equipment Contractor: CML Specialties
Security Consultant: R&N Systems Design LLC

Security Electronics Contractor: Sierra Detention Systems
With many correctional facilities around the country closing or operating on shoestring budgets, seven cities in Washington have found a cost-effective solution in the form of a shared regional jail.

The South Correctional Entity (SCORE) Jail in Des Moines, Wash., just south of Seattle in King County, will be the first multi-jurisdictional jail in the state when completed next summer, possibly six months ahead of schedule. Situated on vacant property owned by the Port of Seattle, the single-story, 813-bed facility — which will house both male and female inmates on misdemeanor and felony charges — will serve the needs of several Washington cities, including Auburn, Burien, Des Moines, Federal Way, SeaTac, Renton and Tukwila.

"SCORE was created because of a reduction of available beds within the greater King County area," says SCORE Director Penny Bartley. "King County Jail is facing significant budget issues reducing the amount of available bed space that they have. This has caused the seven member cities to use up to nine different jails over the past several years."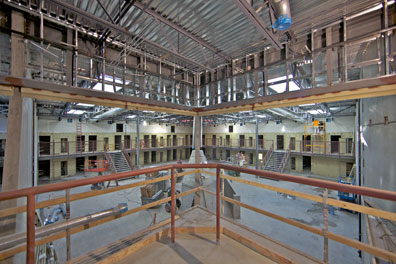 The quality of service also varied widely causing liability concerns for many of the owner agencies, she said. And with jail costs increasing by an average of nearly 70 percent over the past seven years, the owner cities decided forming a regional jail would result in sizable savings.

"SCORE will save money because instead of paying fees at nine different jails — at rates that range from a low of $46 per day to a maximum of $119, plus a $380 booking fee — they will pay themselves to operate the jail," Bartley says. "The jail has a much lower overhead than a mega-county facility and the board controls the services it will offer, and at what cost. Our projected costs are approximately 92 percent of the existing costs, with a reduction over time as the debt service is retired."

The facility — which has a total projected cost of $90 million and construction cost of about $54 million — has progressed quite smoothly to date with few major obstacles. From an organizational standpoint, Bartley says the biggest challenge was getting consensus on the governance model. Specifically, if all the cities had equal votes at the table, were they responsible for assuming equal debt service and operations obligations?

"There were several different variations on the models," Bartley explains. "We decided on proportional ownership with equal votes. However, there are five areas that require the top two users to be on the prevailing side of the vote. By having this 'supermajority' vote, the two large cities can't vote against the five smaller cities. And while the smaller cities have enough numbers, they don't prevail without the largest users. It is complicated, but keeps the group together."


Layout Helps Keep Costs Down
DLR Group of Seattle was brought in as project architect and charged with controlling both staff and construction costs. A unique concept, multi-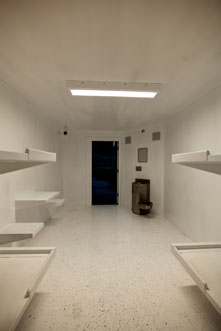 jurisdictional jails are gaining in popularity as communities tackle their detention needs at the most reduced cost possible, but with a combined larger joint scale of operation.
Bill Buursma, DLR Group project leader, says, "Unlike many county jail projects, the taxpayer pays a combined daily bed rate for both operations, plus the building of the jail, and this combined daily rate is below the historic rate for operations cost in a typical new jail."

Controlling the square footage also helped keep costs down. Spanning 164,000 square feet, all of the jail's space has been designed to be flexible to accommodate either male or female inmates.

"You can't see between any housing units," says Buursma. "The glass that is raised in the control room is reflective so you can't see in there or through it into any other housing unit. You have privacy in every one of the 14 housing units so you can put women in any one of them."

The jail's booking area has resilient flooring to reduce injuries, while the lobby has video-visiting kiosks that will include access for visitors from their homes. The medical area — which is larger than typically found in a facility this size — includes a treatment area, dental suite and digital x-ray areas so inmates won't need to be transported for these types of services. The medical center will have a large intake area to give staff more time to classify what units inmates should be held in.

"We also have inmate programming space that includes several interview rooms, including audio and video-recording capabilities, and several video-court areas to handle day-to-day court matters, again reducing the amount of time and cost spent transporting inmates to court," Bartley says.

A big cost-containment feature of this project is the bed cost. At $63,000 each, it is half of what it is at many other jails planned in the Northwest. This is largely due to the efficiency of the layout with little unnecessary space, along with the technology used, such as the steel cells.

At SCORE, the jail's average per bed space is about 210 square feet, where as at other facilities, it would not be unusual to see that proportion at 50 percent to 100 percent higher.

Buursma says much attention was focused on circulation patterns and the configuration of the two main housing units, each with seven pie-shaped dayrooms with cells off to one side. This formation will help lower the jail's operational costs since a podium with a control room will rise in the center of each of the two general housing units, creating a 360-degree view for staff, who can also operate doors and locks remotely.

"The overall design and control of the building areas, while maintaining a full space program, is the single most influential component of SCORE's low cost," says Buursma.

The high-efficiency plan allows for a staffing ratio of 5.3 inmates per staff person, for a total of about 120 employees in all, including corrections officers, medical staff and administrative personnel.

Additionally, the project is fully compliant with American Correctional Association guidelines, so no corners were cut for safety or anything else. "Everything in the offender's life is up in the air, so a stable environment is a plus," says Buursma. "Most importantly, we try to do what is in our control to provide and shape spaces that characterize the jail as a less stressful environment for staff and inmates."

Among the features DLR Group designed included an approachable, glassed-in public lobby that views out into a forested setting; a staff entry lobby situated off of secure staff parking; a suite of professional administrative offices with a skylighted atrium and a secure sub-lobby; a staff break room with a private courtyard; considerate private visiting and arraignment facilities; and housing that is daylighted by numerous skylight and bright and cleanable floor and wall finishes.

"Correctional architecture can be uplifting and make a difference in people's lives," Buursma adds.


Sustainable Components
The project also incorporated a significant number of sustainable features, some of which include a constant volume HVAC system that can reclaim heat; permeable asphalt to reduce storm water detention and offsite flows; daylighting via a large number of skylights with glass double glazing in hurricane weight skylight frames; steel prefabricated cell construction with a very high level of reclaimed steel; a white reflective roof; and a waste control plan.
Additionally, the use of two-inch thick Trussbilt prefabricated steel detention panels filled with concrete grout instead of thick concrete cell walls will reduce the cost of the project by as much as ten percent.

Buursma says Trussbilt steel panels were chosen because they are lighter and save space and time.

"They save time because they go up in a hurry as opposed to concrete cells that have to be installed with cranes," he says. "The big difference is that the building can be roofed earlier with steel cells. Concrete cells are wonderful too, but there are some benefits to steel."
The panels, which were installed by CML Specialties of Coeur D'Alene, Idaho, the project's detention equipment contractor, were completely erected in only ten months. Trussbilt panels were used in all of the furniture — bunks, seats, steps, camera housing — and came prefabricated. Even the plumbing chase came from Trussbilt prefabricated.

Hans Hansen, project manager of Lydig Construction Inc., the general contractor on the project, says the biggest construction challenge was the project's aggressive schedule, which had the precast panel erection starting in early February — only two months after construction began in December 2009.
"This was our first major milestone to hit," Hansen says. "The major obstacle was coordinating all the mechanical and electrical penetrations along with the structural steel embed locations in the precast panels in the short period of time — about five weeks."

Once everything was erected, an anti-microbial coating manufactured by Prime Coat Coating Systems of Chicago was used on virtually everything — ceilings, walls and floors — to cut down on the incidence of staph infections that can congregate in areas with many people.

"We worked with the designers to create unique, industrial-strength, coating finishes that provide corrosion, microbe and graffiti protection, while looking beautiful," says Mike Ballou, vice president at Prime Coat. "Our coating systems are in the cells, housing units, corridors, kitchen/dietary, medical, showers and intake."

He added that the interior surfaces of all the cells contain proprietary satin-finished polyester with a PC Path-O-Cide finish.

"This finish kills pathogens by creating a micro-atmosphere with a high PH condition," Ballou says. "All other areas where our systems are being installed on this project have our polyester finish in gloss with microbe protection. These coating systems were specified because of their excellent abrasion resistance, anti-graffiti properties, gloss and color retention, and the microbe protection."

Web-based Video Visitation

At first glance, the security system on the SCORE project is similar to many other integrated control systems throughout the corrections industry. But at its heart there is a networked-based PLC driven-door control system and digital intercom system that facilitates movement throughout the facility, according to Meredith Pilcher, director of marketing for Sierra Detention Systems, the security electronics contractor on the project.

"This system allows operators control and monitoring of various utilities and security patrol activities such as lights, water and the deputies inspection rounds," Pilcher explained. "However, this security system differentiates itself from others in its efficiency with technology and approach to CCTV and video-visitation integration."

The CCTV is a hybrid solution offering the advantages of a conventional analog video- control center and the latest in encoding and recording technology, she said. A mixture of high- resolution color-fixed and pan tilt zoom cameras will be strategically located throughout the facility to provide coverage. Also incorporated will be a conventional analog matrix switch, a network video-recording solution, and approximately 450 cameras.

"The video that streams from the encoders is recorded using a network-recording solution that effectively eliminates the need for conventional network video recording servers," Pilcher says.

Video-visitation specialist Vizvox will also be working with Sierra Detention Systems to install a state-of-the-art video-visitation and communication system, an Internet-based system that eliminates the need to move inmates from their housing units. This not only reduces the time that personnel must spend in facilitating visitation and enhancing the security of the jail, inmates and jail staff, but will also allow visitors to electronically schedule their visitation sessions from a home or work computer.

Though this progressive project could most likely attain LEED certification, this is not something the owners wish to pursue, largely due to the costs involved.

"However," says Bartley, "We are building to a LEED silver level and have been awarded grants for the design and operational factors that have been considered."

Product Data
Video Surveillance: Sierra Detention Systems
Intercom/Communications Systems: Belden, Chatsworth Products, Inc.
Access Control System: Sierra Detention Systems
Video Visitation System: Sierra Detention Systems
Precast Concrete: Bethlehem Construction
Prefab Steel Cells: Trussbilt
Security Glazing/Windows/Skylights: Global Security Glazing
Security Cell Doors/Locks: Brinks
Detention Accessories: Trussbilt, Norix, American Specialties, Inc.
Building Management System:
Mechanical Systems: Gas Fired Forced Air w/ VAV Units – PennBarry, Greenheck,
Tuttle & Bailey, Titus
Electrical Systems: Leviton
Plumbing System: Bradford White, Bell & Gossett, Kohler, Bemis, Sloan,
Zum, & Willoughby
HVAC System: Custom Built Roof Top AC Units – Trane
Mini-Split Ductless Heat Pump – Mitsubishi
Lighting Controls/Fixtures: WattStopper
Fire Suppression/Smoke Detection Systems: Anvil Star, Tyco, Potter
Irrigation Storm Water Management Systems: RainBird, Hunter, Wilkins
Roofing/Insulation: GAF Materials
Floor/Wall/Ceiling Systems: Armstrong, Scafco, Certainteed, Everlast Sports Surfacing, Lee's Carpet
Food Service Equipment: Vulcan, New Age Industrial, Stero
Refrigeration Equipment: Imperial, True Food Service Equip.
Laundry Equipment: Milnor
Correctional Furniture: Norix, Trussbilt, Creative Industries
Lisa Kopochinski is a freelance writer and editor.