Courthouse Will Be First Historic Net-Zero Building
GRAND JUNCTION, Colo. — The General Services Administration unveiled renovation plans for the 92 year-old Wayne Aspinall Federal Building and Courthouse in Colorado to make it the first net-zero historic landmark building.
"This building is on track to be the first of its kind in the entire nation," said GSA Administrator Martha N. Johnson, who visited Grand Junction last week to make the announcement. "GSA will partner with regional businesses to maintain the historic features that make the building unique, while investing in sustainable technologies to make it one of the most energy — and cost-efficient buildings in the country. The result will be something special that the entire country can look to as a model of innovation and efficiency."
The project aims to be the country's first net-zero building on the National Register of Historic Places and is targeting LEED Platinum certification.
"People don't usually associate innovation with the federal government. But our industry does. We know GSA innovates and partners with the private sector for results," said Paul Westlake, managing principal at Westlake Reed Leskosky, an architecture and engineering firm. "GSA drives norms that have a ripple effect throughout the private sector."
To meet the net-zero goal, the GSA plans to install an energy-saving geothermal heating and cooling system that uses the warmth or cold of the ground to control temperature, and a solar panel array expected to generate enough energy to meet the electrical demand of the building, according to a release from the General Services Administration.
Excess energy will be exported to the Grand Junction electrical grid.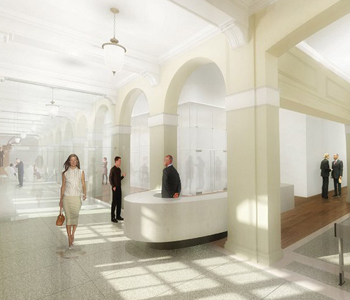 The building will also feature wireless controlled-fluorescent light fixtures to adjust lighting to respond to natural light levels, and storm windows with solar control film to reduce demand on heating and cooling, the statement said.
"These renovations will ensure that the building is running at top efficiency," said Johnson. "Ultimately, sustainability is about no waste. And no waste ensures that we are being as efficient as possible with taxpayer dollars."
Johnson said that government buildings renovated with sustainable technologies often see double-digit energy reductions that can save taxpayers millions of dollars each year.
The Wayne Aspinall Federal building was originally designed by architect James Westmore as a post office and courthouse in 1918, and expanded in 1939.
The project is slated for completion in January 2013 and will house nine federal agencies, according to the GSA.
Johnson, who met with representatives from the region's geothermal industries, expressed interest in expanding the use of geothermal technologies at federal buildings across the country.