Progress Continues on Skagit County Jail, a 2016 Project to Watch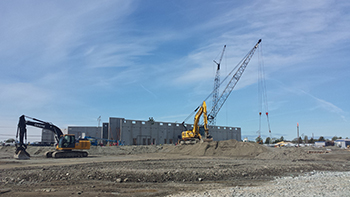 MOUNT VERNON, Wash. — Work on the Skagit County Jail in Mount Vernon began in November 2015, much to the relief of jail staff. The county had been in need of new correctional facilities for more than a decade and regularly was forced to accommodate more than twice the 83 inmates for which it was originally rated. Once complete, the jail will contain 400 beds throughout both housing pods and dormitories, medical and dental care facilities, and a courtroom. It will also be built with ample space to expand to 800 beds in the future.
The jail, originally built in 1984, will be replaced by a modern, 107,800-square-foot facility modeled on the South Correctional Entity (SCORE) facility in Des Moines, Wash. That project was designed by the Seattle office of DLR Group and built by Bellevue, Wash.-based Lydig Construction. The two teamed up again on the new Skagit County facility, which Correctional News selected as one of its 2016 Projects to Watch.
Correctional News spoke with Vice President of Operations for Lydig's Western Region Bill Dobyns to see how the project is progressing.
Q. On what portion of the jail or site are construction crews currently focused?
Dobyns: We are currently erecting precast panels in the housing pod along with the roof structural steel. The footings for the remaining areas of the building were completed last week. Offsite precast panel production continues for the remaining areas of the building.
Q. What progress has been made on the project to this point?
Dobyns: All site demolition, ground improvements, mass grading and fill is complete — along with all cast-in-place footings.
Q. Has the project remained generally on schedule and on budget?
Dobyns: Yes. We did incur some issues with the excessive rain this winter, but we were able to still maintain the project schedule. This was the wettest winter in history in the Northwest
Q. Has working on the site of a former truck stop posed any particular challenges? Were you at all surprised by the condition of the site and soil, and has it complicated the project in any way?
Dobyns: The design team anticipated some issues with the existing soil conditions, so we installed a ground improvement system to stabilize the soil. This involved installing 1,950 rammed aggregate piers approximately 27 feet deep. We then installed approximately 5 feet of structural fill to establish the building pad above the local flood plain zone. We did encounter some underground tanks and demolition debris during excavation and pier installation.
Q. When will crews complete their current phase, and what aspect of the project will they focus on next?
Dobyns: The precast panel erection will be complete in end of May, followed by structural steel in middle of June. We will be focusing on slab on grade pours in May and June followed by above ground mechanical and electrical rough in.
Q. Has the project met any milestones?
Dobyns: Yes. We completed our aggregate pier work and completed foundations on schedule as well as our first precast delivery.
Q. Is there anything you would like to share about the project thus far?
Dobyns: The project team of Lydig Construction, DLR and the county are working well together, solving many complex issues and keeping the community and the county commissioners informed at all times. We anticipate delivering an on time, high quality, on budget facility.