SEC Roundtable: Trends and Technology
Security electronics contractors (SECs) have their fingers on the pulse of the correctional and justice industry — anticipating safety and security trends and adapting to changing needs and regulations. Correctional News spoke with representatives of three leading SEC firms to get their perspectives on the evolution of the industry.
David Beeler, security electronics manager for CCC Group of San Antonio, Texas; Chris White, vice president of security electronics for CML Security of Erie, Colo.; and Jason Loewe, director of operations, Accurate Controls Inc. of Ripon, Wis., shared their thoughts on technology trends.
Q: In the SEC arena, does new and emerging technology push SEC firms forward, or do SECs serve as the real technology drivers?
Beeler: Manufacturers…are the real technology drivers in our industry. Video analytics, facial recognition, networking, high-resolution cameras, computer-operating systems and staff/inmate tracking are constantly changing and improving. The manufacturers are the ones spending the [research and development] money to implement these products. Additionally, the corrections industry is not their only market sector. These technologies are predominantly designed for government, defense and high-end commercial applications, which then filter down to our industry.
That said, we don't want to discredit the corrections industry in any way, nor do we want to downplay the role of the electronic security architects, security consultants, manufacturers and integrators. We are the ones who take these available industry technologies and allow them to operate as one user-friendly electronic security control system even though they are separate and independent technologies. Furthermore, architects and security consultants play an important role in vetting new control system product reliability and cost/benefit ratio as they apply to the corrections industry.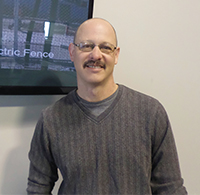 White: It's a mix of several entities — customers, consultants and [SECs]. As technology becomes more prevalent in [customers'] daily operations and more mainstream, we see them begin to adopt more technology. As technologies evolve, we see [SEC consultants] expanding their specs and requiring more and more functionality. As this functionality grows, the requirement for more technology also must expand. SECs are continually working towards improving systems as a whole, establishing relationships with consultants to open dialogues in some of the issues we encounter as well as explaining benefits of the enhancements.
Loewe: It has a lot to do with how involved an SEC firm is in providing design assistance for the architects and engineers (A&Es). Our company is heavily involved in this arena with A&Es relying on our professional opinion to provide the best technology to the end user. Manufacturers are also pushing the emerging technology directly to A&Es and end users, but it is the SEC's responsibility to research, deploy and support the new technology.
Q. Can any low-tech or low-cost security devices or design considerations improve the effectiveness of today's security electronics?
Beeler: Considering the SEC industry has typically been driven to innovate and utilize newer technologies that increase security, while at the same time, manufacturing security systems that are user friendly and cost effective, it is difficult to utilize low-tech opportunities to improve security. As an example, changing from hardwired switched-based graphic panels (low-tech) to touch screens (high-tech) lowered the system costs while increasing security capabilities.
However, the one example where low tech features could still be utilized in today's SEC market is analog cameras. Analog cameras still provide a viable lower cost solution for owners and architects, while still offering the opportunity to run CAT 6 cabling to offer a future camera upgrade option without having to upgrade the CCTV infrastructure. From a design perspective, knowing that CCTV makes up an estimated 35 to 40 percent of the system pricing, architecturally designing better sight lines with less blind spots can substantially reduce the number of cameras and improve "eyes on" security.
White: Allowing flexibility in the integrator's ability to utilize "or equal" products greatly improves overall system integrations from an integrators perspective. Most integrators have certain products that they understand well and prefer, each for their own reasons. This allows the integrator to minimize unknowns when new or different product/components are sole specified. In a lot of cases these products are very similar and ultimately the end users experience no real tangible difference. There are certain cases when an owner/architect/consultant has valid reasons for specifying a particular product or vendor. This is understandable and most integrators have the ability to adapt to these products. Overall, when the integrator is able to use its standard set of products the system has been proven and tested much more thoroughly.
Loewe: Typically low-tech and/or low-cost security devices are used to reduce the cost of the security electronics systems while maintaining the effectiveness of the system. If you consider end user ease of use…you could use the example of the TimeKeeping Systems PIPE watch tour system. This system has great features and functions designed specifically for the corrections industry, but it is also a competitively priced approach for facility wellness checks and also very user friendly.
Read more of the SEC Roundtable discussion in the May/June issue of Correctional News, available soon.