Pierce County Looks to the Future in New Jail, Sheriff's Office
By Lindsey Coulter
ELLSWORTH, Wis. — After a March 2016 groundbreaking and a year of successful construction, the new Pierce County Jail & Sheriff's Department in Ellsworth remains on track for completion this summer. Madison, Wis.-based Potter Lawson designed the 57,000-square-foot facility to feature an 80-bed jail pod and a number of supportive spaces, with the potential for future expansion.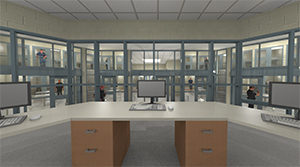 The project is more than 20 years in the making. Eric Lawson, president and CEO of Potter Lawson, said that the existing 1960s-era jail, which is attached to the Pierce County Courthouse, has long posed both operational and safety-related challenges. "It's a linear-style jail, so it's a very staff-intensive jail to operate, and observation of holding areas is difficult due to the layout," he said.
Lawson added that the existing jail lacks proper booking and medical areas, and that both the kitchen and food service spaces are severely undersized considering current demands. All of these deficiencies have been addressed in the new design, which will also include a 1,560-square-foot administration area, a 1,135-square-foot dispatch center, a 2,950-square-foot space for an emergency operations center and a 590-square-foot medical examiner's office — all on a 9.2-acre lot.
Public vs. Secure Spaces
The new facility will offer expanded evidence areas for the sheriff's department as well, including a separate vehicle-evidence processing area. Upon completion, the county will be able to offer video visitation and video arraignment for the first time, reducing outside transportation needs and inmate movement within the facility. An attorney visiting area was also incorporated, and new security technology systems and devices will supplement secure design techniques.
While the new facility will expand in these key categories, it will minimize in others, specifically when it comes to entrances and access points, Lawson explained. Currently, the complex includes a number of doors leading to the sheriff's department, jail and dispatch area. In contrast, the new facility will offer fewer entrances to improve security, and internal and external circulation patterns will maintain the necessary separation between the public, staff and inmates. The Potter Lawson team also worked with the site's dramatically sloping topography to place a secure vehicular sallyport for transferring inmates into and out of the jail, which is located on the building's backside.
In terms of design, the new jail also improves significantly on staff and inmate security through the introduction of pod-style housing. For instance, the jail, sallyport, booking area and housing pod are all located along a linear circulation spine. The jail also includes new medical spaces as well as dedicated rooms for inmate programming and education. The jail pod is composed of precast concrete with metal louver wall panels as accents.
Designing for the Future
Flexibility was built directly into the design, as certain areas were strategically planned to accommodate changing correctional needs. To ensure the jail might one day be able to house up to 120 inmates — with sufficient kitchen, laundry and storage space — Potter Lawson sized these critical spaces specifically to support a larger jail population.
This requirement to allow for future expansion posed a challenge for the design team in terms of footprint as well because the county also needed to allow space for the potential construction of a future courtroom facility connected to the jail on the north side of the site. This forced the design team to consider that possible footprint and how a future courts facility could be connected to the jail offices in order to securely transfer inmates.
KJWW Engineering, headquartered in Rock Island, Ill., is providing a majority of the consulting services on the project, including mechanical, electrical and security consulting services. Cedar Corp is the project's civil engineer and Market & Johnson Inc., is the project's construction manager — both of which hold offices throughout the state of Wisconsin.
Read more about this project in the May/June issue of Correctional News, now available.