High-Security LEED Silver
SALINAS, Calif. — The greening of corrections in California continues with a new $20 million mental health facility in Salinas, the first new state prison building to achieve LEED Silver certification.

The USGBC awarded LEED Silver certification to the 36,000-square-foot mental health treatment facility in recognition of a range of sustainability strategies and cost-saving measures, which are projected to cut water use in half and reduce energy consumption by one-third, officials say.

The Department of Cor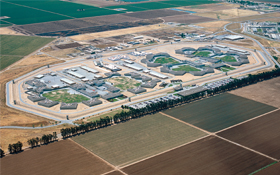 rections and Rehabilitation opened the treatment facility at the Salinas Valley State Prison campus in April 2009. It has 64 beds arranged in four 16-cell units and delivers more than 31,000 square feet of housing space.
The facility earned 33 points under LEED's New Construction v2.1 rating system.

"CDCR has shown leadership in conserving energy on a grand scale, through reducing electricity usage to saving water," says department Secretary Matthew Cate.

Gov. Arnold Schwarzenegger's Executive Order S-20-04 mandates a sustainable approach for the design, construction and operation of all new state-owned buildings, requiring a minimum of basic LEED certification.

The SVSP campus has two 270-bed units and two 180-bed units that house minimum- to maximum-security inmates, a 100-cell standalone administrative segregation unit and a correctional treatment center.

The campus also accommodates special-needs inmates under the department's Disability Placement Program and the Salinas Valley Psychiatric Program, a division of the Department of Mental Health with a stand-alone housing unit and two retrofitted 180-bed housing units within the secured perimeter.

The new treatment facility came in almost $100,000 under budget and will use an estimated 37 percent less energy than comparable buildings not designed to LEED standards. Low-flow fixtures will help the facility consume 56 percent less potable water, which is of particular value considering the area's arid climate.

A vacuum sewer system — another first for the state prison system — is projected to reduce sewage throughput by an estimated 70 percent compared to baseline consumption for a similarly sized conventional facility, officials say.
Reducing the amount of wastewater negated the need for the city to upgrade the municipal wastewater treatment plant, which was already operating at capacity. The project team also implemented a comprehensive recycling program that diverted 92 percent of construction waste (868,000 tons) from landfills, according to reports.

In addition to program management services, Kitchell CEM provided design review, value engineering and cost-estimating services.

"We are very proud to have met the challenge of successfully leading the design of CDCR's first LEED facility," says George Dyckes, Kitchell deputy program manager. "We set the standard for this and future CDCR projects by reducing water usage by half and energy usage by a third."

The project team included Kitchell CEM, Nacht & Lewis Architects and general contractor Roebbelen Contracting Inc. Mechanical and electrical engineering services were provided by Capital Engineering and CB Engineering, respectively.

Green Building Services assisted the project team with establishing the sustainability objectives and the LEED certification process, which is the nationally accepted benchmark for the design, construction and operation of high-performance green buildings.

Prospective LEED-certified projects are evaluated across five key performance categories — sustainable site development, water savings, energy efficiency, materials selection and indoor environmental quality — for environmental and human impacts.

The project team reviewed and evaluated the sustainable design features that could be achieved based on feasibility and cost, documenting the incremental cost of LEED certification to create an data source for future projects.

"We developed a spreadsheet to track the cost of each LEED credit that we considered pursuing," Dyckes says.

For example, stakeholders considered a rainwater collection system as one possible means of reducing water usage and waste. However, a simple cost-benefit analysis deemed the estimated $1 million installation in pursuit of one LEED credit was not cost effective, officials say. In contrast, the projected $300,000 installation of an overhead vacuum plumbing system, which can reduce overall water usage by up to 50 percent, was judged a cost-effective way to gain four LEED credits.