DOJ Seeks Control of Virgin Islands Prison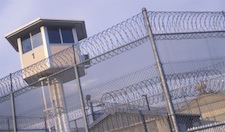 WASHINGTON — Failure by the Virgin Islands Bureau of Corrections to comply with 25 years of court orders has prompted the U.S. Department of Justice to file a motion in U.S. District Court to take over the operations of a prison there.
The Bureau of Corrections has failed to comply with court orders to improve the Golden Grove Adult Correctional and Detention Facility, according to the DOJ.
"Receivership is the last resort," said U.S. Attorney for the Virgin Islands Ronald Sharpe. "We arrive at this juncture only after spending the last 25 years exhausting every other viable alternative," he said.
This is the first time the DOJ has sought receivership of a correctional facility.
Justice Department officials said the prisoners live in dangerous and dirty conditions without required medical and mental healthcare. Contraband, including weapons, illegal drugs, and electronics, are rife, the DOJ said.
"The deplorable conditions at Golden Grove continue to deteriorate after years of non-compliance with court orders," Assistant Attorney General Thomas Perez of the Civil Rights Division said in a statement. "While it is always our preference to work with agencies to make necessary changes, this agency has left us with no choice but to seek the drastic measure of receivership."
Officials said the receiver would be able to overhaul and increase staffing, develop strict procedures, train staff in detecting contraband and find ways to classify and separate violent prisoners.
Contention has characterized the relationship between the Virgin Islands, a U.S. territory in the Caribbean, and the Bureau of Alcohol, Tobacco, Firearms and Explosives – a DOJ agency – since 2008 when they withdrew its agents from the Virgin Islands after an altercation between agency officials and territorial police over the investigation of ATF Special Agent William G. Clark, who was suspected of killing a neighbor in the U.S. territory.
A territorial judge in October dismissed the murder case against Clark, who claimed he killed the neighbor in self-defense. The judge threw out the case on a technicality.