Construction Market Activity Continues Slow Growth Pattern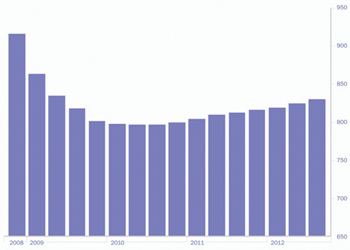 NEW YORK — Turner Construction Company announced that the third quarter 2012 Turner Building Cost Index, which measures costs in the non-residential building construction market in the United States, has increased to a value of 832. This reflects a 0.73 percent increase from the Second Quarter 2012 and 2.21 percent yearly increase from the third quarter 2011.
Karl F. Almstead, Turner vice president responsible for the Turner Building Cost Index, said, "A modest increase in construction costs over the last few months is driven by labor and material cost increases." He continued, "Market optimism also contributes to the moderate increase in costs. However, any significant change in the market will require a change in the overall economy."
Turner has prepared the construction cost forecast for more than 80 years. Used by the construction industry and Federal and State governments, the building costs and price trends tracked by the Turner Building Cost Index may or may not reflect regional conditions in any given quarter.
The cost index is determined by several factors considered on a nationwide basis, including labor rates and productivity, material prices and the competitive condition of the marketplace.
Founded in 1902, Turner is a subsidiary of HOCHTIEF, a publicly traded company and one of the world's leading international construction service providers.