Long-Awaited Bourbon County Law Enforcement Center Opens Its Doors
By Rachel Leber
FORT SCOTT, Kan. — The long-awaited Bourbon County Law Enforcement Center in Fort Scott finally opened its doors in November 2017.
Construction on the 21,125-square-foot facility in Bourbon County began in November 2016. Goldberg Group Architects PC (GGA), based out of St. Joseph, Mo., was the architect of record on the project, with Universal Construction Company Inc. based out of Lenexa, Kan., serving as the construction manager on the project. The project had a budget of $9 million and has 74 beds for inmates.
A dedication and ribbon-cutting ceremony was held on Oct. 7, less than a year after construction began. City and county officials, including former county commissioners involved with the project were in attendance for the event. In addition, Bourbon County Sheriff Office staff and the Southeast Kansas Regional Correctional Center led tours throughout the facility on the day of the dedication, with various community groups receiving tours during the rest of the week.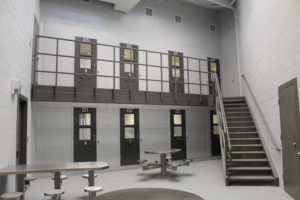 Discussions initiating the project began because the existing 1977 county jail and sheriff's offices in the County Courthouse Annex were long overdue for replacement, with inadequate space and capacity. The building had a variety of functional security and system deterioration and widespread building-code violations — all contributing to an increasingly difficult and unsafe detention environment.
Lawrence Goldberg AIA, NCARB, ASC, president and senior principal at GGA, was retained in 2013 to provide a feasibility study and assist county officials with a tax referendum, which was approved by Bourbon County voters in 2014. Bourbon County officials worked with GGA throughout the process on the the scope and budget of the project to help move it forward.
"Finding a viable site was extremely difficult, delaying the start of the project several months," said Lynne Oharah, Bourbon County commissioner. "But, the results were worth it. We've had a great relationship with our project team and a great project outcome."
Many more challenges faced the project team along the way. Continued increases in construction costs, competing projects and demand for skilled labor throughout the region contributed to bidding difficulties early on in the process with limited or no availability of bidders for several key portions of the project, according to Steve Smith, president of Universal Construction.
"We would invite certain trades to bid, and on bid day, and we'd get nothing," said Smith. "We'd re-bid those portions and still get nothing, but eventually got our bids — and fortunately they were good quality — but it was a struggle."
The pre-engineered buildings are built on slab, with modular rear-chase steel cells installed in a radial, podular layout in an effort to make the building envelope relatively cost-efficient, according to Goldberg. Sustainable elements of the project include LED lighting, water-conserving plumbing fixtures, energy-efficient window systems, interior finishes made with highly recycled content, low VOC paints and stone veneer from a local quarry.
"Bourbon's jail project is a notable example of what a committed project team can achieve — no matter how many hurdles have to be overcome," said Goldberg. "From passing a bond issue by 16 votes to re-bidding the project repeatedly to finding a suitable project site — and looking at 16 to 20 different locations — Bourbon's long-needed jail has finally been realized."