Architect Examines Modern Courthouse Design and Natural Light
Man has existed on earth for 4.5 million years. For most of that time, humans have evolved in balance with their natural environment. However, in the cosmic millisecond of the last 100 years, the human race has learned to build environments for living and working that protect us so completely from natural variation that it is now possible to live and work in an environment where one may literally never see the light of day.
In these hermetically sealed environments, filtered air is pumped in to feed our lungs while artificial lighting permits us to work in windowless spaces.
These hyper-conditioned spaces were designed around the positive promise of greater comfort and workplace productivity. Yet, a number of government agencies and organizations have conducted a series of well-executed field research projects during the past 10 years that quantify the negative effects that a lack of access to natural light, views and air circulation can have on human wellbeing, functioning and performance.
The California Energy Commission used data on staff absenteeism, student test scores and sales volumes to provide metrics to evaluate the effects of natural daylighting. The Commission's final report revealed that people deprived of access to the natural variations in nature will simply seek out ways to create the missing variation for themselves.
In the workplace, this could manifest as staff leaving workstations more frequently to talk with colleagues, getting coffee more often, taking more frequent bathroom breaks or leaving earlier for lunch.
Natural daylighting in Workplace Environments
Daylit environments correlated with a 15 percent decline in workplace absenteeism

Staff in daylit workplaces performed up to 25 percent better on mental function and memory tests

Glare resulted in 15 percent to 20 percent reduction in worker performance

Absence of outside views were associated with increased feelings of fatigue
Source: California Energy Commission
In the wake of the study and similar research, a new interdisciplinary field of scientific study has emerged, which focuses specifically on how access to natural systems affects human cognition, productivity and general wellbeing.

Partly the domain of cognitive neurologists, sociologists and environmental engineers, this new science has developed an integrated body of knowledge that the design professional can now translate to the design of environments and building spaces in justice facilities. Perhaps most importantly for an architect such as myself, the CEC's research, in quantifying what many architects have intuitively understood, gives evidence-based credence to century old design strategies that seek to actively and passively integrate natural systems into the building user's experience.
Natural Daylighting in Court
While integrated sustainable design is currently a hot topic, research such as the CEC's has undoubtedly helped ensure that more and more offices, schools, and stores are built using effective natural daylighting strategies.
However, when one considers other building types such as courthouses where a mixture of many different functions and users intersect, there has been very little in the way of research projects completed that effectively use daylighting. This has been especially true for the nexus of the criminal justice system — the courtroom.
The question then arises, why has modern court building design largely rejected the utilization of daylighting strategies in courtrooms? This is especially relevant when one considers some of the most critical functions and activities in a society occur inside the courtroom. As architects we have an obligation to design courtrooms that enable each trial participant to examine trial information with the highest level of cognition, attention and memory.
Courtrooms as Classrooms
A courtroom functions much like a classroom where vital information regarding a case is being exchanged, legal precedents are being learned, and very important decisions are being executed. Courtrooms are also places of work where people such as justices and bailiffs spent part of each day with the requirement to perform their professional duties with professionalism, consistency, and most importantly impartiality.
Although no data exists yet on the positive effects that daylighting has on cognition and productivity in courtrooms, the cognitive requirements of courtroom occupants closely resemble those of students and of the modern office worker. Therefore it is reasonable to assume the CEC's research on the effects of daylighting on cognition and productivity in workplace and educational environments may be instructive for the activities of a courtroom.
The potential benefits of higher levels of cognition, attention and memory among trial participants would improve overall organizational efficiency, reduce anxiety and agitation for participants, and ultimately allow for faster case processing and could reduce error rates.
Hurdles to Natural Daylighting
Until the 1950s, and the growth of artificial lighting and mechanical ventilation, windows in courtrooms were a necessity for daylighting and natural ventilation.
Daylighting can improve criminal justice environments.
More recently, resistance to the integration of daylighting in the modern American court is most often rooted in procedural and security concerns, and the potential that outsiders might distract, spy, disrupt and/or shoot into a trial through transparent windows. Secondary concerns relate to how glare may impede vision and the fear that outside views could reduce juror focus.
Although each of these concerns is very real, with a cultural shift and good design each can be mitigated. Windows can be designed to be located above site lines. Effective shading devices and/or one-way glass can be used to reduce glare and create privacy. Courtroom window walls can be located on the sides of the building where views access benign distant natural features.
However, in reality, the largest impediment to daylighting courtrooms is the tendency of courtrooms to be planned as landlocked islands inside a three dimensional puzzle of related and necessary ancillary spaces such as detainee holding cells, public waiting areas, jury deliberation rooms, and justice chambers. Complicating the puzzle further, to minimize the number of dedicated detainee elevators, courtrooms are typically arranged as couplets where two courtrooms share detainee holding services and vertical circulation. As a result of these adjacencies, at a minimum three sides of the courtroom are occupied with required ancillary program: one side occupied by public waiting space, one by justice chamber/jury deliberation space and one by detainee holding areas. Although it should seem simple to bring daylight in through windows by puncturing the available fourth side of the courtroom, for the sake of building efficiency, this wall typically serves as a party wall to another courtroom pair.
Daylighting Roadmap
There have been attempts to bring daylight into courtrooms of some of the new federal courts by creating large light shelves that extend over the judicial chambers or building lobby and filter light into a double-height courtroom space over the justice bench. However, KMD daylight studies carried out for the development of the San Francisco Public Utilities Commission building, demonstrated that snaking daylight through a tunnel over the ceiling of an office or lobby space yields only diffuse light for occupants in the interior spaces. Such diffuse light it is not capable of creating the effects of contrast and daylight variation (or views) are required for occupants to benefit from exposure to natural light and variation. In courtrooms, these kinds of daylighting gymnastics are only as effective as they are in convincing justices to build more ceremonial double height courtrooms.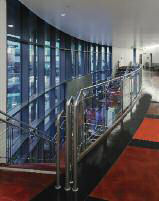 Natural light is expected to become accepted best practice.
Rather than focus on designing solutions to daylighting that require complicated hardware and/or spatial gymnastics, simple design strategies and measures can offer courtroom daylighting solutions. This could involve placing courtrooms in areas of the building where at least part of a courtroom wall is an exterior wall for window placement, utilizing operable shades to minimize glare and allow the required level of privacy, designing double-height courtrooms that incorporate clerestory lighting, designing light wells between the shared wall of courtroom couplet, or integrating large atria and skylights into public lobby spaces. Most importantly, because daylighting is about access to views and natural variation as much is it about amplifying natural lumen and contrast levels, at KMD we begin, wherever possible, by designing courtrooms with controlled views to natural areas.
Daylighting strategies should extend beyond the courtroom to judges' chambers and jury deliberation rooms, which are typically located on the perimeter of the courtroom making it easier to implement measures.
Closing Arguments
As previously mentioned, client resistance to daylighting measures typically comes from a cultural fear of the unknown. As a changeable foreign entity, daylighting is not predictable and controllable, and thus should not be allowed to enter an environment where precedent, impartiality and predictability are of the highest order of importance. In support of such concerns, many judges have referenced the potential for a beam of light to illuminate the defendant and influence the opinion of a jury in an unfair manner.
However, as daylighting strategies become the norm for other building types and research such as the CEC's becomes part of the collective knowledge base of design, daylighting for courts should eventually become the accepted best practice.
Indeed, many judges are beginning to understand that daylighting has the potential to positively affect the workings of their courtrooms. The presiding judge at the district courthouse in Klamath Falls, Ore., proved amenable to the integration of a large window into the courtroom that offered a view of the lake. Although the project budget could not support automatic or complex shading solutions, a manually operable curtain provided a sensible glare- and privacy-shade alternative.
Reno Federal Court
Small courthouses are the easiest to daylight because the courtrooms will necessarily have adjacencies to exterior walls. Although the Reno Federal Court Building is not a small court building — there are only two courtrooms per court floor — KMD planned a tall building with relatively small floor plates to take advantage of the daylighting opportunities permitted by small courthouses.
Each court sits as a discreet double- height block at the end of the building. Because the courts sit partly outside the main building block, each courtroom has two walls where clearstory windows could be placed for daylighting without the need for privacy/security screens.
To alleviate the inefficiency commonly found in the modern courthouse where the minimum standard ceiling height — which is neither high enough to create a ceremonial courtroom nor low enough to maximize net-to-gross area ratios in office and support areas — is used across both court and office areas, courtrooms are double height and office support spaces are double stacked more tightly.
Even with the double-height courtroom, the Reno federal building is the most efficient federal courthouse in the United States in terms of net-to-gross area.
Part of the building's efficiency results from stacking the courts to allow for fewer elevators per floor, while breaking the convention of coupling courts around a detainee elevator also increased the building's efficiency.
Although separating detainee circulation into distinct zones on the court floors required that each court have its own dedicated elevator, the segregation resulted in reduced detainee circulation in the holding areas and the consolidation of public circulation areas.
David Hobstetter, AIA, is a principal at international design firm Kaplan McLaughlin Diaz Architects.