N.C. Jail Earns LEED Silver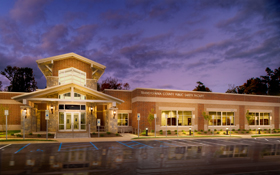 CHARLOTTE, N.C. — The U.S. Green Building Council recently awarded Transylvania County's new public safety facility LEED Silver certification to mark a significant green building milestone for the county and the state.
The $17 million facility, designed by Moseley Architects, is the first public safety facility in North Carolina to attain the coveted Silver status, officials say. In addition, to planning and design work, Moseley, which is headquartered in Richmond, Va., provided a range of other services on the project, including security design and interiors, construction administration, transition consulting and staff training.
The project price tag includes the costs associated with master planning and site preparation work with M.B. Kahn Construction Co. of Columbia, S.C., acting as general contractor. The site is master planned to accommodate other county functions and facilities, such as the proposed replacement courthouse and justice center, officials say.
The new 63,000-square-foot county building, located approximately 120 miles west of Charlotte in Brevard, incorporates a 120-bed jail, the sheriff's office with space for the detective and patrol divisions, jail administration, a training facility, and staff amenities. A 911 dispatch, and an emergency operations center are located adjacent to the lobby, which accommodates administrative space and a visitor waiting area with video visitation.
The county jail, which can be accessed via a secure vehicular sally port, features intake, booking and magistrate's areas, and also incorporates a kitchen with warehouse space, laundry room and a variety of other ancillary support space.
Although the majority of the building follows a single-story configuration, housing pods, which are outfitted with video visitation rooms and outdoor recreation areas are located in a two-story structure adjacent to the magistrate's court and the sheriff's office and booking area.
The aesthetic of the facility, which is dominated by brick and steel, is influenced by the surrounding environment and local architecture with the design team incorporating regional materials to achieve the desired sense of civic presence.
Driven by the county's remit to optimize operational costs and sustainability, the project team designed and constructed the new public safety facility according to USGBC guidelines with the objective of LEED certification.
The project team incorporated a range of strategies and measures and the use of locally sourced materials contributed to sustainability efforts and the push for LEED certification. The project team also utilized recycled-content building materials and FSC-certified wood products, while more than 70 percent of construction waste was diverted from landfill to recycling centers.
Low-flow plumbing fixtures incorporated throughout administrative, public and secure detention areas yield a 42 percent reduction in water consumption compared to a similar conventionally designed building, while individual lighting controls increase occupant comfort and reduce energy consumption, officials say.
The building incorporates a reflective roofing membrane designed to mitigate the heat island effect and reduce HVAC loads to further conserve energy. In addition, the facility is outfitted with energy-efficient building systems, equipment, appliances and fixtures throughout.
The design team implemented an indoor air quality management plan and utilized low-emitting interior materials to enhance indoor air quality and safeguard occupant health, while the development also preserved more than 50 percent of the site as forest and vegetated open space.