Construction Begins on $59 Million Calif. Jail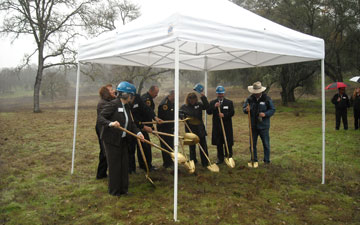 SAN ANDREAS, Calif. — Civic leaders gathered in a rain-soaked field near the existing Calaveras County Government Center to celebrate groundbreaking on a new, $59 million criminal justice complex.
The new jail will be nearly four times the size of the existing facility and will a 160-bed main jail and an 80-bed dormitory for minimum-security inmates. The existing 65-bed jail was constructed in the 1960s.
The new jail is being funded by a $31 million tax measure passed in 2006, and with $26 million in funding from the state's AB 900, a measure to fund the addition of 53,000 state prison and local jail beds to relieve severe overcrowding, improve conditions and offender outcomes, and ward off the threat of federal court intervention, signed into law in 2007.
"It really is about teamwork and a team process," said California Department of Corrections and Rehabilitation Secretary Matthew Cate, who attended the groundbreaking.
Architectural firm PSA Dewberry, based in Fairfax, Va., is providing architecture, interior design, and security technology services for the project, according to reports. Kitchell Contractors Inc., with offices in Phoenix, Ariz., and Sacramento, is the contractor.