RICHMOND, Va. — Harold Clarke has been named as director the Virginia Department of Corrections. Virginia Governor Bob McDonnell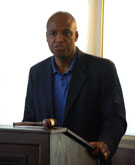 appointed Clarke, who has served as a commissioner with Massachusetts' corrections system since 2007.
Clarke will oversee a system with 32,000 inmates in 44 prisons and more than 11,500 employees. Clarke succeeds Virginia DOC director Gene Johnson.
Clarke is a corrections industry veteran with 30 years experience that started as a counselor with Nebraska's DOC, eventually rising to director. He recently served a two year term as president of the American Correctional Association, where he helped lead the organization as it faced fiscal uncertainty during recessionary times and budget shortfalls.