Energy-Efficient Improvements and Programs Under Way at Virginia DOC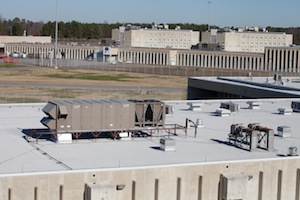 RICHMOND, Va. — Many prisoners are left wondering where their lives will take them after their release. The Virginia Department of Corrections partnered with the Department of Correctional Education and Johnson Controls to give prisoners the education and experience needed to pursue a future career.
Johnson Controls is working with the Virginia Department of Corrections to design and build a Green Learning Lab at Indian Creek Correctional Center in Chesapeake, Va., as part of Governor Bob McDonnell's commitment to strengthen the state's re-entry program. The inmates will be taught skills to operate mechanical HVAC/R equipment to prepare for careers as service mechanics, controls technicians, and facility maintenance specialists before their release.
"Through educational programs like this we can improve public safety and reduce recidivism by providing offenders with marketable skills for when they are released back into their communities," said Marla Graff Decker, Secretary of Public Safety. "Virginia's Re-Entry initiative provides programs that assist inmates in their effort to succeed rather than re-offend upon release. This training program will help everyone accomplish their goals."
The program is designed to teach inmates a needed and desired trade in the community. By working with HVAC/R equipment, inmates will be trained in a specialized trade, making them more valuable in the workforce and hopefully limiting re-entry.
"That first job when released from incarceration is critical to successful re-entry into society, and we are committed to doing all we can to make sure our students are as prepared as possible to enter the workforce and attain employment," said Patrick Wilson, Department of Correctional Education (DCE) interim superintendent.
Johnson Controls is providing the equipment and curriculum for the Green HVAC Vocational Program at the Green Learning Lab. The training facility will be led by experienced instructors and is funded through energy savings generated by the energy-efficiency upgrades made under the performance contract.
The Green Learning Lab will welcome its first class of students in 2012.

Energy Conservation at VDOC
Along with the educational program, Johnson Controls is also responsible for improving energy, water, and operational efficiency at facilities in the Virginia Department of Corrections. Johnson Controls is currently conducting an energy and facility improvement initiative at more than 20 correctional facilities. They are improving correctional facilities through HVAC and lighting technology upgrades and reducing the facilities' electricity demand by 17.3 million kilowatts per hour.
Green building upgrades, including a new 300-panel solar thermal system that will help heat water at the St. Brides Correctional facility, are projected to reduce propane use by 194,576 gallons per year. With the help of Johnson Controls, VDOC was among the winners of the 2011 governor's Environmental Excellence Awards presented earlier this year.
Not only are the improvements saving money and conserving energy, they are also helping those working at VDOC.
"Anytime you improve the physical plant operations, you reduce the potential issues our correctional officers may have to deal with," said Kimberley Lipp, Chief of Architectural and Engineering Services at the Virginia Department of Corrections.
Johnson Controls worked to conserve water at VDOC by including water-efficient appliances, fixtures, and valves. Low-volume fixtures and valves reduced toilet flow from 3.5 gallons to 1.6 gallons. The water conservation measures have reduced VDOC's water usage by more than 90 million gallons per year.
The electronic controls that help conserve water can also be used to lock out toilets so that inmates can't flush any items prior to a contraband search. It also helps to prevent an inmate's attempt to flood his cell.
Energy Performance Contract
The energy-efficient improvement project led by Johnson Controls is part of an energy performance contract with the VDOC.
"Energy performance contracting was a way for us to make energy-efficiency upgrades that helped us meet the governor's energy goals and at the same time make infrastructure improvements at a time when there wasn't a lot of funding available to do so," said Kimberley Lipp.
With the performance-contracting model, energy-efficient facility improvements are paid for with the resulting utility savings. Performance contracting allows users to make capital improvements, save energy and water, reduce emissions, improve sustainability, and address tight budgets — and use the expected utility and operational savings to offset the cost of the upgrades.
If Johnson Controls doesn't achieve the savings that are guaranteed, they pay the business or institution the difference between what was guaranteed and what was actually achieved.
The VDOC is expected to save significant amounts of money and will save 90 million gallons of water per year with the new water conservation measures.
Energy performance contracts have been used with other states' departments of corrections, including Mich. The Michigan Department of Corrections entered into energy performance contracts with companies including Johnson Controls and Chevron Energy Services, Inc., an energy service company (ESCO), to install energy-efficiency improvements to reduce energy costs in the Muskegon, Marquette, and Cotton correctional facilities. A total of $495,916 was saved with the seven-year energy performance contract, as the project exceeded guaranteed savings by 16 percent.