Lighting Controls Provide Green Benefits
It's no secret that replacing existing lights with more energy-efficient lighting sources, such as LED, is one of the easiest ways to reduce energy use.
Lighting in commercial buildings can account for up to 40 percent of total energy cost, but what most people don't realize is that making the lighting source efficient is only half the story — an even greater level of energy reduction can come from improving lighting control.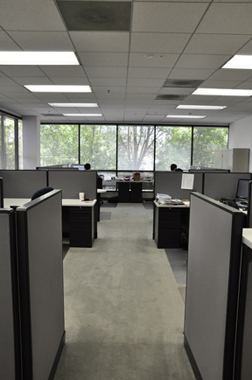 Lighting control systems, based on a variety of technologies, have been proven to reduce lighting energy consumption in commercial and industrial buildings by up to 70 percent. These solutions can automatically turn off lights when they are not needed, optimize light levels to suit worker needs, reduce overall demand for lighting energy, and provide facility managers with system-wide lighting management.
Although the core concepts behind lighting control aren't new, a set of advanced wireless technologies are bringing them more mainstream, providing ways to expand capabilities to a wider set of customers.
Advanced Lighting Controls
Today's advanced lighting control systems create a large-scale lighting network that delivers the correct amount of light, where you want it, when you want it. Lights can automatically switch or dim at set times or under set conditions; facilities managers can make changes to lighting when appropriate or to meet financial incentives; and users can have control over their own lighting levels to provide optimal working conditions.
Customers of lighting control systems often apply a set of lighting control strategies or applications, each of which uses a specific technology and method to control a subset of lighting usage. These strategies include occupancy sensing, daylighting, scheduling, task tuning and more.
Lighting control systems typically include some or all of the following:
• On/off and dimming controls
• Occupancy sensors to detect whether rooms are occupied
• Photosensors to detect the current illumination levels provided by natural and/or artificial light
• Scheduling that turns on, off, and dims luminaires at preset times
• A centralized control system interface (such as a wall panel or computer software) to manage all of the above
• A method of communication between the lighting equipment and control system
• A method of measuring, displaying, and responding to lighting energy usage
Emerging applications
In older lighting designs, each group of luminaires and lighting devices was installed in a closed loop and a facility manager could only access the lighting by physically accessing each room. Some of today's lighting control systems change this equation by linking together the control of an entire building — and even separate buildings — to remotely manage and control light settings. This way, each light and device within a lighting control system can be individually addressable, creating a truly intelligent lighting network. This vastly improves ongoing management cost and complexity, and provides the capability for facility managers to reduce energy use in ways that were never before possible.
New areas of savings are also being created in advanced lighting control systems by making energy usage data readily available for facility managers. Better data often equals better savings, and as managers gain access to real-time and historical information about the usage of energy by light, room, zone and building, they have the information for more effective decision-making. Also, some lighting control systems can tie into utility demand management programs, allowing buildings to automatically reduce lighting use at peak times in order to gain financial incentives.
Further benefits of advanced applications can include tax incentives, enhanced compliance with LEED and other building codes, and interoperability with an ever-expanding network of in-building smart wireless devices, such as plugloads, blinds, thermostats and more.
Removing the Wires
Within these advanced systems, the introduction of innovative wireless controls is further reducing costs and complexity while easing implementation. Wireless lighting control systems utilize wireless technology (similar to the wireless networks you may use to access the Internet at work or home) to communicate commands between lighting devices — sensors, switches, and the ballasts or LED drivers connected to lights.
While traditional lighting control systems utilize a controller that is hard-wired to each device (often with miles of copper wiring), a wireless system uses a controller with an antenna that manages communications between devices. Facility managers and individual users can utilize a software interface to manage the system and change settings, which are then routed through a controller to the individual lights. The result is a flexible, scalable system that is easy to commission, especially in retrofit scenarios where existing building infrastructure often gets in the way of installing a new lighting control system.
Lighting Controls & Green Buildings
Lighting is one of the largest sources of energy use on the planet, and yet only about 7 percent of commercial buildings have installed advanced lighting controls. Although lighting control systems have been shown to provide tremendous benefits, many parts of the commercial building market have been hesitant to utilize these systems in anything but the most basic configurations. This is often due to cost and complexity due to labor, equipment and wiring, and the commissioning, management and upkeep of these systems.
The new generation of systems is eliminating these cost and complexity concerns and increasing system capabilities by removing the dedicated control wiring. Through the use of modern enterprise-class wireless networking technology, system-wide controls strategies can be implemented without significant upgrades or added infrastructure costs.
Concurrently, the smart grid and other building systems have embraced wireless technology and are beginning to reap the rewards. Removing the wires delivers on the promise of lighting control by providing even greater benefits, at a lower cost, and to a much broader set of potential customers.
While net-zero buildings are still a long way off in the United States, intelligent lighting control systems with wireless networking capabilities are readily paving the way in helping companies take simple steps to save money and make our buildings greener.
Joshua Slobin, director of product solutions for Daintree Networks, is responsible for developing the company's industry solutions, ecosystem partnerships and marketing strategy.