Wrecking Ball Takes Aim at Maryland House of Correction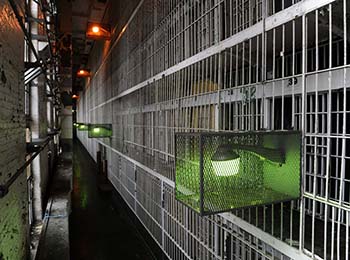 JESSUP, Md. — After standing for more than 130 years, structural demolition has begun on the infamous maximum security Maryland House of Correction. The aging and inadequate facility saw a dramatic increase in violence in recent years, prompting correctional officials to close it in 2007.
According to Gary Hornbeck, who was the prison's last acting warden, the sprawling prison complex was once home to 2,100 inmates. These inmates lived two to a 6-foot by 9-foot cinder block cell throughout the early and mid 1980s. Due to unlit corners, poor sight lines and other antiquated design features, violence directed both at staff and inmates was a constant concern.
Though numbers were later reduced and the population was stabilized at one inmate per cell, violence peaked in 2006 and 2007. Then, two correctional officers were stabbed on duty, one fatally. As a result, Governor George O'Malley ordered the closing of the facility in 2007. The more than 800 remaining inmates were then transferred to other state facilities, and plans were established to destroy the notorious structure.
Berg Demolition of Boca Raton, Fla., managed the large-scale demolition process, which began officially on January 17. However, thanks to an initiative developed by Gary Maynard, former head of the Department of Corrections, 120 inmates from neighboring facilities have been assisting with lower-level demolition for nearly two and a half years. This program, which was supported by a $150,000 grant from the Abell Foundation, also provided these inmate workers with training, as well as state certification, in trades such as lead paint remediation, deconstruction and hazardous material removal.
The inmate crew removed an estimated $5 million in bricks, beams, copper piping, brass fittings, fixtures and other materials, and reserved them for recycling. These efforts also saved state taxpayers an estimated $300,000 in demolition costs.
"If you'd done the same thing by knocking (the prison) down and putting in a landfill, it would've cost the citizens of Maryland twice as much as it's costing now," said John Wolfe, a representatives of the Department of Public Safety and Correctional Services. "The fact that we're recycling so much of this material, it's saving the citizens money and it's a green project." In total, the demolition, which was initially estimated at $10 million, is expected to cost $4.5 million and is slated to last through October 2014.
In the summer prior to the large-scale demolition, correctional officials lead guided tours of the facility that were widely attended by Jessup residents and former correctional staff. In total, more than 2,000 people participated for one final look at the legendary structure.
Upon completion the space will remain open. However, Gov. O'Malley's most recent budget has allocated more than $15 million to the construction of the new 66,000-square-foot, 560-bed Dorsey Run Correctional Facility, which will also be located in Jessup. A state legislative commission has also endorsed a plan to raze the equally notorious Baltimore City Detention Center. Like the House of Correction, the Baltimore facility features the same antiquated construction style that puts inmates and staff at risk for violence.