WWII Bomb at Construction Site Leads to Evacuation of German Prison
REGENSBURG, Germany — There are aspects of contemporary experience that are par for the course of modern civilization. For example, there are prisoners; there is war; and sometimes there are even prisoners of war. But rarely are there prisoners-not-of-war whose daily routine is disrupted by a 500-pound aerial bomb — until recently near a German prison.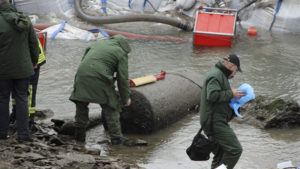 Welcome to Regensburg, a city in southeast Germany with more than 140,000 inhabitants that sits at the confluence of the Regen, Naab and Danube rivers. It's also where a World War II–era bomb was discovered at a nearby construction site, necessitating the evacuation of a nearby prison in July. The discovery is part of an unnerving string of similar finds of undetonated munitions throughout the area.
The bomb was found during a construction project within a few yards of the Justizvollzugsanstalt Regensburg prison that currently houses 109 inmates, according to Mittelbayerische, a local newspaper. The bomb was initially unearthed on June 29, and authorities took time to organize a large-scale evacuation of the area, which included the nearby prison.
Some 1,500 local residents were also ordered to leave so the bomb could be defused. Inmates were evacuated from the prison with several large busses to an undisclosed location. Specialists were able to safely defuse the bomb in the afternoon after carrying out two controlled explosions on the bomb's still-intact detonator.
The bomb's discovery isn't all that uncommon. Bombs and other military weapons are regularly found during construction work throughout Germany, despite the fact that the war ended more than 70 years ago. At least five bombs have been uncovered in the Regensburg region during construction in 2017 alone.
Within days of the Regensburg incident, another bomb was found in the city at a different construction site 10 minutes away from the prison. A 250-pound American pilot bomb with an intact fuse was found at BioPark Regensburg GmbH, a cluster of technology start-ups. The site, including a nearby kindergarten, was likewise evacuated, and the bomb was safely defused by officials.
"There are bombs everywhere. This is nothing unusual in Germany," Biopark Physicist Dr. Robert Mertzig told the local newspaper.