Legacy of Judge Lives on in New Courthouse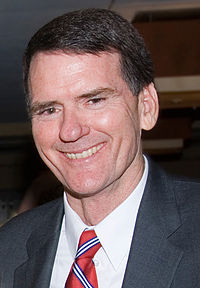 TUCSON, Ariz. — Sadness struck Tucson, Ariz., and the country as a whole on Jan. 8, 2011, when an armed gunman opened fire during a public meeting in a supermarket parking lot. Eighteen victims were shot, including U.S. representative Gabrielle Giffords; and six of those victims were later pronounced dead, including U.S. federal judge, John M. Roll.
In honor of the tragedy and the life of Roll, the city of Yuma, a distant neighbor of Tucson, will recognize his work and his legacy as they name the city's new federal courthouse the John M. Roll U.S. Courthouse. The courthouse design was one of the last projects that he had signed off on before his death. He had considered the project a top priority over the past few years and wanted to make it a reality, according to a statement.
"He was the real deal. This courthouse will help us remember that," said Ron Barber, district director for Giffords and witness to Roll's death in 2011.
Roll was born in Pittsburgh, Pa., but moved to Arizona as a child where he stayed to attend the University of Arizona and received a bachelor's degree and then continued at the university's law school, earning a Juris Doctor (J.D.) degree. He then pursued his Master of Laws (LL.M.) degree from University of Virginia's School of Law.
His dedication and passion for the law took him back to Arizona where he was eventually appointed to the federal judge seat in Arizona by President George H. W. Bush in 1991 and finished his career as the chief judge of the U.S. District Court for the district of Arizona. The courthouse does not just honor Roll's overall commitment to law and justice, but a personal commitment to the building of the courthouse itself in his beloved state.
The decision to build the new courthouse is something that has been in the works for many years. The project was first approved in 2003, according to Charles Flynn, executive director for the Yuma Crossing National Heritage Area. The project was then delayed for three years by a moratorium and then more delays resulted when the project did not have the congressional funding to continue with design-build plans.
The $33.4 million project was eventually funded, including $27.9 million in stimulus money.
"It's been a long time in coming," Flynn said in a statement. "I personally met with Judge Roll three or four times over the last few years and can personally attest to his enthusiasm for this project. Now he will be with us in perpetuity."
The new 56,800-square-foot courthouse is slated for completion in May 2013. The John M. Roll U.S. Courthouse will be located where the National Guard Armory once stood. It will feature two magistrate courtrooms, judges' chambers, jury facilities, U.S. Probation and Pretrial Services, District and Bankruptcy Court Services and the U.S. Marshals Service.
Culver City, Calif.-based Ehrlich Architects worked on the design and incorporated southwestern staples into the facility, by incorporating sandstone in the interior and exterior and also installing energy-efficient technologies to accommodate the extremely warm Arizona climate.
"The southwest flavor of this concept retains the dignity of a federal courthouse. It is a great fit for the immediate area, particularly as positioned [and] the front entrance is prominent and inviting," said Barber in a statement.
Energy-efficient strategies for the courthouse include a large, solar panel canopy that is expected to generate one-quarter of the building's electrical needs while providing shade to employees and visitors, according to Steve Ehrlich of Ehrlich Architects in a statement. Phoenix-based Sundt Construction also worked on the project under a design-build contract.
The courthouse will include living walls of vines planted on steel trellis' to shade windows and keep temperatures down naturally in the building. The facility is hoping to achieve LEED Gold certification upon completion.
The features of the courthouse include two full-size courtrooms; secure bus/van sallyport; secure mailroom with improved security for staff; sufficient space for staff as well as room to grow in the future; improved site security; incorporation of progressive collapse design with blast protection; photovoltaic cells for energy savings; improved landscaping; and significant additional space for the U.S. Marshall holding facility.
Roll worked hard to see that the court was constructed and many believe he would be thrilled to see the near completion of the project — set in a predominate location in downtown Yuma.
"The court would not have been built without Judge Roll championing the project. He was instrumental in getting the project through congress," said Steve Baylock, who worked on the courthouse as project director for Sundt Construction.