Justice Solutions Partners of California Formed to Meet Facility and Infrastructure Needs of California Counties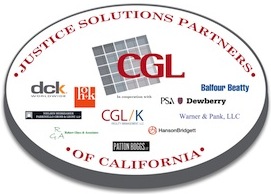 SACRAMENTO, Calif. and PHOENIX — CGL Capital Solutions, LLC, a leading Public Private Partnership (P3) development firm specializing in mission critical facilities, in cooperation with HOK Inc., PSA Dewberry, Balfour Beatty Inc., dck worldwide, LLC, CGL/K Facilities Management, LLC, Warner & Pank, LLC, Nielsen Merksamer Parrinello Gross & Leoni LLP, Patton Boggs LLP, Robert Glass & Associates Inc., and Hanson Bridgett LLP announces today the creation of the Justice Solutions Partners of California (JSP), to facilitate Public Private Partnerships in the state of California for justice and corrections infrastructure.
Hear Buddy Johns, president of CGL Capital Solutions, speak about the success of realignment for California counties.
JSP was formed in response to California's AB 109 and in accordance with AB 111 in the effort to address the realignment needs of the state of California. The group has in-depth knowledge of the state's realignment plan and the state funding legislation and has identified many counties that have justice and corrections infrastructure needs that could benefit from the JSP's experience involving project delivery.
JSP utilizes the expertise of each member entity to offer a comprehensive multi-faceted approach, which addresses all aspects of the justice or correctional project needs including planning, site acquisition and entitlement, design, construction, finance, lifecycle management, and maintenance services.
In addition to its service expertise, JSP's ability to privately fund all or parts of the capital needed makes it an effective long-term solution to the current budgetary issues of California.
"I'm excited about the formation of Justice Solutions Partners of California as it represents a unique delivery model for counties and sheriffs throughout California as they prepare for an influx of new inmates at the county level. By partnering with the industry's best and brightest, we are able to provide timely and innovative solutions to their individual needs while drawing from the years of experience amongst the group,"
says Buddy Johns, president of CGL Capital Solutions, LLC.
Contact:
Buddy Johns
CGL Capital Solutions, LLC
President
(724) 601-4918
bjohns@cartergoblelee.com
Kristen Hunn
CGL Capital Solutions, LLC
CIO
(480) 392-0659
khunn@cartergoblelee.com