Plan Proposed to Improve California's Prison System, Save Billions of Dollars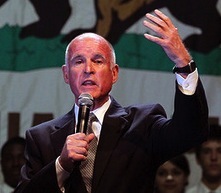 SACRAMENTO, Calif. — Gov. Edmund G. Brown Jr. issued a statement following the release by the California Department of Corrections and Rehabilitation (CDCR) of "The Future of California Corrections: A Blueprint to Save Billions of Dollars, End Federal Court Oversight, and Improve the Prison System."

"California is finally getting its prison costs under control and taking the necessary steps to meet federal court mandates. This plan cuts billions in future spending and meets the U.S. Supreme Court's order to reduce our prison population."
California may slash $4.1 billion in construction plans, reclaim inmates housed in other states and close one of its costliest facilities. 

The plan would reduce general-fund spending on prisons to 7.5 percent from 11 percent, under a blueprint unveiled by Gov. Brown and the CDCR.
CDCR's plan will:
• Reduce CDCR's annual budget by more than $1.5 billion upon full implementation, including $160 million dollars in savings from closing the California Rehabilitation Center;
• Eliminate $4.1 billion in construction projects that are no longer needed because of population reductions;
• Eliminate $2.2 billion annually that would have been spent had Realignment not been implemented;
• Return all out-of-state inmates to California by 2016 to bring back jobs and manage offenders closer to home while saving millions in taxpayer dollars;
• Satisfy the U.S. Supreme Court's order to lower the state's prison population;
• Satisfy the federal courts that CDCR has achieved and maintained constitutional levels of medical, mental health and dental care to avoid costly oversight;
• Incorporate a standardized staffing formula to better manage staff levels and cost;
• Improve the classification system to provide proper inmate housing placement and reduce the reliance on costly high-security facilities.
As recently as 2008, California's inmate population was 173,670, the highest in the U.S., followed by Texas at 172,506, according to a 2010 report by the Pew Center on the States.

To view the report, "The Future of California Corrections," visit: http://www.cdcr.ca.gov