Ward County Jail on Track for 2018 Completion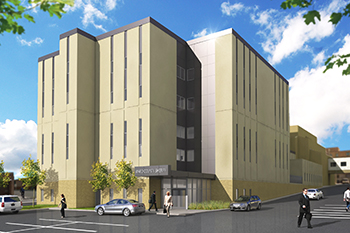 MINOT, N.D. — Construction on the much-needed expansion to the Ward County Jail in Minot is currently on track after breaking ground in April. The current 104-bed facility, built in 1981, continues to face overcrowding issues, holding up to at least 130 inmates at times.
Locally based JLG Architects is serving as the architect on the project, which includes a 65,000-square-foot addition that will add 200 beds (or 100 new cells) to the current facility. The four-story project will also feature new inmate recreation areas, a public lobby/entrance, visitation areas, administrative offices and inmate health services. It also includes security and technology upgrades to help create a safe and secure environment for both inmates and staff, according to the JLG Architects website.
"From an exterior design perspective, the jail expansion needed to be respectful of the adjacent historic 1930's Art Deco-style courthouse as well as the recently opened County Office Building," said Scott Jordan-Denny, AIA, principal and civic practice leader for JLG Architects. "The same precast concrete material and similar detailing utilized on the new Office Building was repeated for the jail expansion. Ultimately, the goal was to create a county campus of buildings that were visually similar, but each reflective of its own function — office, jail and courts."
Connecting to the existing jail and improving the flow and safety of both facilities was critical, Jordan-Denny said. "Four floors of new jail cells expands the four floors of the existing jail via a connective link. That link contains new elevators and stairs as well as support functions such as mechanical systems, recreation rooms and multipurpose rooms," he added. "Tight corridors and blind spot were updated or eliminated. Another important connection is the existing sky-bridge between the jail and the courthouse. The circulation systems of both new and old needed to work together to assure a clear, safe connection to the courts."
The juvenile detention center, currently located within the existing jail, will be relocated to the lower level of the historic courthouse to help with operational issues with intake and prisoner separation. The juvenile detention center will be combined with updated juvenile probation offices, a juvenile courtroom and enclosed juvenile recreation room, and it will be operational this month. "Similar to relocating the sheriff's office [to the jail's first floor], relocating juvenile detention out of the existing Jail opens up potential opportunities to enhance operations at intake," Jordan-Denny said.
One of the biggest changes to operations will be the two-story cell blocks monitored by a single control room. A two-level ring of cells circumscribes the perimeter of the building, while the second level of cells are located on a balcony overlooking a two-story-tall, glass-enclosed day room. There will also be enhanced inmate transfer with the new enclosed vehicle sallyport and intake area.
The use of precast concrete wall and structural systems as well as prefabricated steel holding cells is helping keep construction on schedule. County officials are working closely with the construction team to make sure that plans stay on track, especially to ensure that parts of the building are enclosed before winter, reported KFYR-TV, a local news outlet.
A voter-approved, half-cent tax is paying for the addition, which is on track to open in 2018.