LITTLETON, Colo. — A minimum-security federal prison outside Denver will soon house a 23,000-square-foot solar field after officials contracted with Johnson Controls Inc. for the installation of a turnkey renewable energy system.

The United States division of Abengoa Solar Inc., headquartered in Lakewood, Colo., will design and engineer the system, which will be used to meet the hot water needs at Federal Correctional Institution Englewood.

Abengoa, operating under contract for Johnson Controls, will deploy the parabolic trough solar-thermal system, which incorporates 160 parabolic PT-1 collector modules, on a 1.7-acre site adjacent to the prison.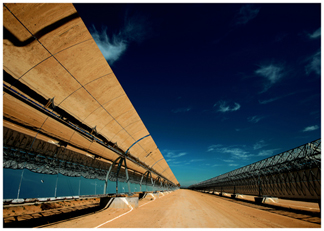 The parabolic troughs track the sun continuously during the day on a single axis, concentrating solar radiation onto receiver tubes located at the focal point of the parabola. A heat-conducting fluid mixture is pumped through the receiver tubes, absorbing the solar radiation as heat, and circulates in a closed-loop system to transfer the collected heat to a 15,000-gallon hot water storage tank.

In 1999, Abengoa delivered a similar solar-thermal system for the Bureau of Prisons at a 1,200-bed federal facility in Arizona. The system, which uses solar collectors to transfer heat to a large water storage tank, satisfies more than 70 percent of hot water needs at FCI Phoenix.
Abengoa owns and operates the solar array, with generated energy metered and sold to the facility as part of an energy savings performance contract.

Under optimal conditions, the solar system, which consumes less than 25 kWh to power pumps, collector drive motors and controls, can save more than 4,000 kWh of electricity per day, officials say. The use of solar energy has reduced annual net electricity usage by 10 percent of total energy consumption, which equates to 1.1 million kWh.

The solar system at FCI Englewood is scheduled to come on-line by the end of spring 2010, officials say.
FCI Englewood will reduce its energy costs and carbon emissions with the installation of a 23,000-square-foot solar-thermal system.