California Moves on Death Row Project
SAN QUENTIN, Calif.
—
In spite of opposition from two state legislators, the California Department of Corrections and Rehabilitation
commenced the bidding process for the proposed construction of a new condemned inmate complex at San Quentin State Prison.
A pre-bid conference was held Aug. 26 at the prison and was attended by architectural and construction firms. State corrections officials were on-hand and divided the project into several packages that will bid out separately.
Elements of the project include minimum-security housing, a warehouse and several support buildings that currently occupy the site, which will be demolished to make way for the approximately 540,000-square-foot condemned inmate complex. The new complex will have an operational capacity of up to 1,152 inmates, officials say.
Bidding for the project closes at 2 p.m. on Oct. 5, according to reports. Construction is expected to start in early November. Phase Two of the project, scheduled for completion in 2013, includes construction of the multi-level housing units, which will incorporate various amenities, and perimeter security enhancements.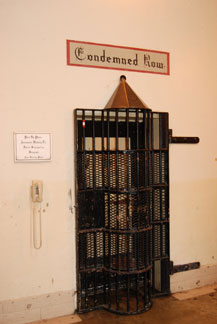 The proposed 768-cell facility, which will be constructed on a 40-acre site on the grounds of the state
'
s oldest prison, will cost an estimated $360 million to complete.
Gov. Arnold Schwarzenegger has committed $64 million in initial construction costs via a loan through California
'
s pooled money investment account
—
part of the state
'
s general fund — which has drawn criticism from local lawmakers.
In an interview with Correctional News, California State Assemblyman Jared Huffman (D-San Rafael), whose district includes San Quentin, says that he would be surprised if construction ever starts on the project.
"People are free to bid — but it is very likely that this project is not going to proceed," Huffman says. "I would be surprised if contractors put a lot of work into this. It will be wasted time if they do."
Huffman says that legal challenges to the governor's loan authorization are in the works, as well as to his ability to launch any kind of prison construction initiative until he has dealt with overcrowding issues that he has been court-ordered to address.
"I think what he is doing is illegal," Huffman says.
Assemblyman Mark Leno (D-San Francisco) also criticized the funding of the project, citing the state of California
'
s economy.
"
I think it
'
s rather reckless, given the unstable state of our general fund,
"
Leno says.
Situated across the bay from San Francisco, San Quentin houses more than 5,000 minimum- to maximum-security male inmates. California houses more than 700 inmates on death row
—
the highest number of condemned inmates of any state.