Innovation in Tight Times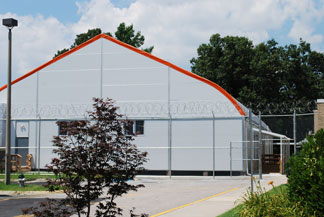 An alternative to chronic correctional facility overcrowding is becoming more prevalent as jails across the country continue to struggle with budget issues — and reach out to temporary/permanent housing solutions.
In Chesapeake, Va., officials at the Chesapeake Correctional Center — a minimum- to medium-security facility — are delighted with their three new temporary structures that hold a minimum of 266 inmates — and that came with a price tag of only $6 million.

Faced with housing 1,100 inmates in a jail built for 543, the City of Chesapeake could not afford the $200 million price tag for a new permanent jail to help alleviate its overcrowding problem.

"We knew we had to do something," says Sheriff John Newhart. "This was the most cost-effective way that we could go ahead and get the space and do it quickly."

The city contacted Proteus on Demand Facilities, a firm based in Atlanta, Ga., that specializes in erecting temporary constructions for jails/prisons, schools and other institutions.

Proteus went to work and determined how many and what size structures would fit on the site to give the city and the sheriff's office the most for their money in the quickest amount of time. The result was a configuration of temporary units that were essentially shoehorned into place into the original site map.

"Basically what we have are several semi-permanent structures behind the current facility," says Newhart.

The addition spans just under 20,000 square feet. The project consists of one 7,534-square-foot building, a 3,229 square-foot building, and a building spanning 8,880 square feet. Each of the structures holds 92, 46 and 128 inmates, respectively. Within the additions, there are dormitory-style bunks, guard stations, small day rooms, showers, and tables and chairs where inmates eat.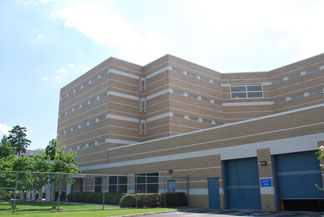 The three structures are connected to the original jail that was built in 1964. Further renovations took place in 1978, with the construction of a multi-purpose section, gymnasium and library. A linear section was added in 1987, followed by 320 more beds in 1996.

With extremely limited site space, Monte Alsup, division manager at Proteus, says getting the additional structures fit into the existing jail's footprint with little disruption to other areas of the facility was a challenge.

"It would be similar to adding an addition to your home within your existing fenced-in yard, but not being able to remove trees or the kid's play fort, or to do heavy infrastructure and grading," says Alsup. "We had to try and put three more sardines in a can that was already full, and we had to do this by finding a place to put three buildings that could hold the most people on a site that was already congested."
"The smaller challenge that spun off of this was how to do this in an economical manner," he added. "We had to maximize bed count without having to go to a remote location or without having to tear down something else."

Alsup says that an important goal was to place inmates in the right areas in terms of minimum-and medium-security.

"There were minimum-security inmates taking up beds in a medium-security area," he says. "That's not a good allocation of space, because as you go up in classification, the beds become more expensive to manufacture and you have more stringent security features."
On top of that, at any given time, about 10 percent of the jail's population can be made up of female inmates, he says.

Sheriff Newhart refers to the jail addition as a stopgap solution. The city of Chesapeake signed a 10-year lease with Proteus for the temporary addition. While the structures could eventually become a part of the permanent plan, a new roof may be required after about 10 years.

"This is something that is working very well," Newhart says. "It will buy us some time until we can get a more permanent structure. I also think we will see more of this type of structure across the U.S."

"The addition is a fraction of what you would have to pay [for a permanent building] but it is kind of like, 'would you rather have a house or a tent,'" noted the sheriff office's chief deputy, Lt. Col. J. Shipley.

Few Hurdles to Clear

To get the ball rolling, Proteus first tapped the Columbia, S.C. office of CDA Architects, which planned the layout of the utilities and completed the stamp drawings so the city could obtain the proper permits.

CDA's architect, Darrell Watts, and project manager Edel Mobley, agreed that the largest challenge from an architectural standpoint was getting the project approved in a timely manner. Because the additions were treated from a permitting standpoint as permanent structures rather than temporary structures, additional items were required to be added to the buildings, in spite of that fact that Americans with Disabilities Act, International Building Code and local climatic requirements were already met with standard Proteus components.

Additionally, CDA worked with Lee Clippard of the engineering firm, Sims Group, based in Greenville, S.C., to provide the mechanical, plumbing and electrical drawings.
"The drawings included floor plans, exterior elevations, interior elevations, wall sections, enlarged toilet and shower plans, door and window schedules, finish schedules, building code information, and ADA handicap accessibility compliance," Mobley says.

"The most unique aspect of this project," Mobley added, "is that the structures can be erected and disassembled very quickly since all portions, including the toilets and showers, are prefabricated and can be reused for other projects."

The three structures are comprised of foam core metal walls, aluminum and steel frames, tensioned membrane roofs, and integral cassette flooring systems, which negated the need for concrete slabs or permanent foundations.

Techcon General Contractors based in Norfolk, Va., provided construction services on the project, which only took 75 days to complete.
With a population of 225,000, Newhart says Chesapeake has been growing by leaps and bounds over the past 20 years.

"We're just trying to keep up with the general population," Newhart says. "The general population goes up and the jail population goes up."
Project team
Owner/Operator: Chesapeake Sheriff's Office
Owner Representative: Sheriff John Newhart
Architectural Firm: CDA & Associates
General Contractor: Proteus On Demand; Techcon Inc.
Project Manager(s): Steve Snyder, City of Chesapeake, Emma Slack/Mark Slack, Proteus
Engineering Firm: Clarke Nexsen A&E
Project Data
Facility Name: Chesapeake Correctional Center
Facility Type: Municipal Jail (expansion)
Construction Budget: $6 million
Number of Beds: 266 beds
Area: 19,600 square feet
Start Date: November 2009
Completion Date: February 2010
Lisa Kopochinski is a freelance writer.