Background Check: DLR Group's Bill Buursma
Vital Statistics
Name: William Buursma
Field: Architecture
Title: Justice+Civic Principal / Architect, AIA, LEED AP
Agency: DLR Group of Seattle
Education: Undergraduate degree, University of Michigan; Master of Architecture, University of Pennsylvania
Time Served: more than 40 years as an architect, 20 in
corrections
Currently Reading: "Any historical fiction that has to do with sailing in the 18th and 19th centuries, like Patrick O'Brian's Aubrey-Maturin series."
Bill Buursma, justice principal and architect at DLR Group in Seattle, is best known for pioneering designs that provide exceptional safety and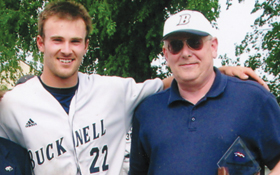 functionality as they incorporate high-tech, high-efficiency concepts and materials.

Throughout a career that spans almost 50 years, Buursma — remarkably modest given his resumé and accomplishments — has worked with the 20th century's most prominent architects: Skidmore, Owings and Merrill, designers of Willis Tower (formerly known as Sears Tower); Chinese-American architect I.M. Pei, whose designs include Paris's Louvre pyramid and Hong Kong's Bank of China Tower; and Ludwig Mies van der Rohe, a German architect counted among the fathers of modern architecture.

Working on "very large projects from the very beginning of [his] career" — including nearly 20 years of hospital design prior to his corrections work — Buursma says one of those brushes with architectural greatness almost ended his career before it truly got started.

"When I was still studying architecture, I worked for Mies van der Rohe in Chicago," Buursma says. "Learning the ropes, the firm gave me a construction tour of the 860-880 Lakeshore Drive towers, [one of Mies van der Rohe's seminal projects]. We huffed up 18 stories through one building and, at the top, there was a 2×12 laid from one building to the other. The fellow showing me the ropes casually got up on that board and walked across it to go down through the other building. Needless to say, I did not follow — I almost gave up architecture right there."

High-rise acts aside, Buursma was inspired and influenced by the profound thinkers who employed him in those early days, and he has since — quite literally — forged his architectural identity with outside-the-box designs.

"Coming into the corrections industry I could see that it would be very important to keep in mind that staff members might spend a professional lifetime in a given facility, that offenders would be arriving in such places very upset," Buursma says. "With correctional design, like any project, you start with the function of the building, but you can interpret it to into a setting that's a little more humanistic than tradition might suggest — you know, the old concrete boxes — to organize a sense of confidence and less stress. The first step is to get people to a point where they can become interested in being rehabilitated, so I wanted to think about everything the building could do to increase safety, decrease stress, and create what we architects like to call a normative environment. I try to design facilities that help people respond better to the correctional part of the correctional work we're trying to do in such institutions."

Buursma-designed and co-designed facilities are regularly spotlighted in magazines and newspapers around the world. Recent press — including a Facility of the Month (Jan. 2011) feature in Correctional News — has primarily focused on Washington's cutting-edge South Correctional Entity (SCORE) Jail, which will serve more than a half dozen cities in the greater Seattle area when it opens later this year.

"The SCORE Jail was an important project from the standpoint of creating a high-quality design with a reasonable cost," Buursma says. "That's really what it comes down to in our industry these days, people need a very functional, affordable facility and they need to be able to run it well. SCORE requires 40 percent less staff investment than is typical, primarily because of time-saving features like automated pharmacies, a full medical and surgery clinic, Internet video visiting, video arraignments and even electronic signature pads so you can execute orders while talking to a judge with the video link up. These kinds of things mean fewer staff dragging prisoners to and from courthouses and doctors and visiting rooms. It's very efficient."

The SCORE Jail efficiency doesn't start and end with high-tech perquisites, though. Buursma's design has been lauded for the overall efficiency of the layout as well as the materials he called for using, time and space saving materials like Trussbilt's steel panels. The aforementioned innovations are things the industry now expects, to some degree, from Buursma and others, but he's consistently been ahead of trends, and cites DLR projects in Oregon as particularly innovative staples in his career.

"Around the turn of the century, we started designing facilities for the Oregon DOC in Wilsonville and Madras that implemented shifts in thinking," Buursma says. "Architecturally, the thing that we contributed in the long-term prison housing units is views of the horizon. We have a day room where one whole side of the room has a window where you can see outside. That's a whole new idea in 2001, but now it's a prevalent idea — or it's becoming one anyway. Immediately outside that window is a fenced exercise yard so that there can be increased hours of the day for exercise. Which is so important because, just like a hospital, what you're trying to do is reduce stress — which, again, opens offenders up to being rehabilitated and ultimately reduces recidivism."

Buursma says that, despite the simplicity of such ideas, it sometimes takes convincing to implement one for the first time. He notes additional design innovations that he and DLR implemented at the Madras and Wilsonville facilities were indirect evaporative cooling systems, increased work and skill-learning spaces, and layouts that foster a kind of symbolic relationship to living in an outside community.

"There are things like streets to walk on, where to get your clean clothing, your food, go to a doctor," Buursma says. "These are things that help prisoners learn the skill of having to manage time and belong to a community so that they can eventually do those things on the outside."

Buursma says he's driven by an inspiration to improve the quality of life for staff and offenders alike.

"I don't think most Americans know how hard these staff members are working, or fully understand how respectful they are when they're working with offenders," Buursma says. "Any architect worth his salt knows that the buildings have to serve a real purpose for these folks. We can't simply stack up cells anymore without thinking about how design can make a real difference in the lives of folks at these facilities."

Buursma adds that an equally important component of design is showing that the corrections can function on effective and efficient levels so that society can respect and embrace the industry's rehabilitative efforts.

When he's not working, Buursma says that his passions include watching his son, Jason — an AA minor league prospect with the St. Louis Cardinals' organization — play baseball and spending time on the water.

He has lived in Seattle since 1970, frequently sailing throughout the Pacific Northwest and abroad, a pursuit he jokes has consumed a great deal of his savings. As a world class competitive sailor in the 1980s, Buursma also raced with and against people like Ted Turner.

"Ted Turner is a great personality," Buursma says. "I used to visit him in Atlanta on occasion. One time, I was in a race against him and he was behind us and started yelling to my crew about how we could catch up with the boat ahead of us. Basically, he distracted us for long enough so that he could pass!"
Whatever his exploits on the water, Buursma's efforts in reshaping prison and jail design will not soon be passed. As seems typical of the humble architect, though, he's quick to give the competition credit for design innovations they've adopted from him and his peers at DLR.

"The art of design is really good in the industry right now," Buursma says. "There's a lot of great firms exploring and creating positive trends."