Background Check: Wally Riffle, R&N Systems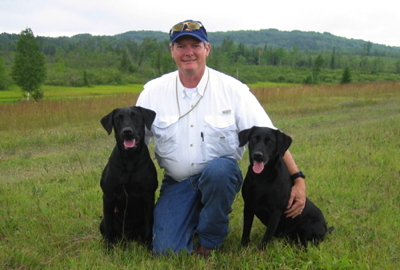 Riffle runs field trails with his Labrador retrievers.
Vital Statistics
Name: Wally Riffle
Age: 62
Education: University of Arkansas, bachelor's degree in architecture
Field: Specialty security consultant
Agency: R&N Systems Design, LLC
Title: Senior principal
Time Served: 31 years
Reading: Decision Points, by George W. Bush
Desktop Images: photos of the great outdoors
"I started doing corrections projects back in 1980," says 62-year-old Wally Riffle, founder and senior principal at security consulting firm R&N Systems Design, LLC. "Back then there were no consultants or architectural firms to speak of that had any real expertise in security systems. Since I was the architect of record and had to stamp the documents, I had to learn how to do the security systems part of those documents out of necessity."
From his office in Germantown, Tenn., where he co-founded R&N in 2000 with his partner, Frank Niedzwiedz, Riffle is describing his circuitous route to the corrections industry and security systems mastery.
Fresh out of the University of Arkansas with a bachelor's degree in architecture in hand, Riffle first worked for a tiny design firm in Little Rock before settling into a decade-long career at Jackson, Miss.-based Dean, Dale & Dean, a design firm whose diverse work included state prison and county jail projects in several Southeastern states.
"I just loved architecture — it's all I ever wanted to do — and it was really just by chance that I was assigned as a project architect to some of those initial corrections projects," Riffle says.
"Again, it was only out of necessity that I learned how to deal with and design the security systems, and I found it fascinating and [I was good at it]. It eventually became the sort of thing where, even when I wasn't the firm's manager on a given project, they ended up asking me to do the security work."
Skip to 2011.
Riffle's R&N combines both his lifelong love of architecture and the security system work he learned to love along the way. As a specialty design firm, Riffle says, R&N has worked with federal, state and private operators. The company deals directly with owners on retrofit projects of existing facilities and sometimes performs security conditional assessments of existing facilities.
But the majority of the company's work, Riffle says, involves specialty security consulting with architectural firms on correctional facilities, dealing with both security electronics systems and detention equipment design documents. Recent projects include the 3,000-bed La Palma Correctional Facility in Arizona, on which R&N partnered with CCA, as well as the Bledsoe County Correctional Complex in Tennessee, a project on which R&N partnered with the state's Department of Correction.
"I really enjoy working with security systems and applying different aspects of those systems to different buildings and facilities," Riffle says, elaborating on how his passions sustain his work. "It essentially makes every project a unique challenge, even if some of the systems are the same. Owners have different desires as well, so despite whatever the similarities are, you're always implementing things differently. I really like that."
Bridging the gap between Riffle's work as an architect in the 1980s and his current station at R&N was a 12-year stint at Memphis-based ESI Companies, which Riffle says was an invaluable experience on many levels.

"In the late '80s, I had the opportunity to go to work for a security contractor, ESI, in Memphis," Riffle says. "It was a difficult decision for me because I loved architecture, but I decided that maybe I could draw from my perspective a little bit and broaden my horizons to understand more about the construction aspect of security systems and equipment. That was the beginning of a lot of design-build work, too, so it was good timing."

Riffle became a vice president at ESI, which, significantly, is also where he met his business partner, Niedzwiedz, who was a director of engineering.
"Frank and I worked really well together and complemented each other with our different knowledge bases, and that's what led us to form R&N," Riffle says. "We're now back more on the design end of things, but we got a great education on the construction side, dealing with everything from fabricating systems to buying equipment to supervising the installation of that equipment and commissioning that equipment. It was valuable experience for both of us and it serves us very well in terms of what we do now."

Riffle says he considers himself very lucky to have found an occupation about which he's so enthusiastic but adds that part of what keeps him firing on all cylinders at work is the ability to step away and engage with his family and hobbies.

"I love hunting, specifically bird hunting: pheasant, quail, duck, dove," Riffle says. "In recent years I've gotten really into retrievers and running field trails with my dogs. My wife and I both participate in that, and it's been very enjoyable to do it together."

Riffle explains that his love for his Labrador retrievers emanates from hunting with his sons, Jeremy and Luke, now 35 and 32, respectively, when they were younger. After years of retrieving their own birds, his boys jokingly complained that Riffle treated them like retrievers, so he got a dog to placate them and "relieve them of their duty."

He enjoyed training that first dog so much that it led him to field trials. Riffle says that most of his free time is now spent with his beloved dogs rather than on the hunts that inspired his connection with dogs in the first place.

But those are pursuits that simply keep Riffle balanced, and he says no one should expect him to stop working hard any time soon.

"When you get to be around 60, everybody starts to think about retiring," Riffle says. "But I enjoy what I'm doing, and I'm just going to keep on doing it. I've still got a lot of energy. It's hard for me to imagine that, at any given time, I'll just walk out the front door and say I'm through. Maybe sometime in the future I'll phase out and start working shorter hours and doing a little bit less travel, but that might be more than 10 years away."