Vacaville Facility Showcases California's Progress
VACAVILLE, Calif. — As California continues to work on reducing prison population in the state, they also have been busy making improvements to facilities, including the California Department of Corrections and Rehabilitation's (CDCR) California Medical Facility's (CMF) new outpatient treatment center in Vacaville.
Walking through the facility you can still smell the fresh paint on the walls and see your reflection on the clean and polished floors. The pristine appearance is matched by national recognition as the facility recently received LEED Silver certification in January 2013. The new 44,131-square-foot, 64-bed mental health treatment facility and housing unit's achievement honors the facility's commitment towards sustainable building practices and functional operations.
"This is the third award CDCR has received for our continued efforts to conserve energy by reducing electricity usage as well as water consumption," said Jeffrey Beard, CDCR secretary, in a statement. "Our goal is to see all future projects awarded for their efficiency and sustainability."
Some of the energy-efficient highlights include a reduction of potable water waste by approximately 54 percent and a reduction in energy consumption by nearly 18 percent. The project also recycled more than 75 percent of the waste generated during demolition and construction.
The project team has a longstanding commitment to sustainability and much of the success of the project can be related directly back to the coordination and execution of the team, including program manager, Kitchell CEM; construction manager, Vanir Construction Management; architect, Nacht & Lewis Architects; engineering firm CYS Structural Engineers; and mechanical contractor, Brown Construction.
Caring for California
The entire team worked together to ensure that not only LEED standards were met in the design and construction of the building, but also the facility's overall commitment to mental health treatment was upheld.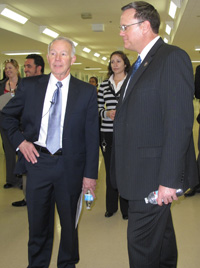 "By far, this is the smoothest project that I have seen go up here and I like the opportunities that it's going to give to a lot greater programming for the inmate-patient population," said Brian Duffy, warden at CMF.
CMF was built in 1955 as a medical facility, and its mission to medical and mental health care to inmates has remained a number one priority to the state, and to Duffy.
The new $24 million, three-story facility houses outpatient treatment rooms for mentally ill inmates, where individual and group therapy sessions are conducted. The third floor is for inmates with serious mental illnesses that need additional restraint and/or monitoring during therapy and treatment sessions.
"I don't see us changing and I think we're going to continue on with that mission," Duffy said. "When the Stockton facility opens maybe more of our acute inmates will move to that facility, but we'll still have a very strong mental health and medical mission here and we will continue to provide the best care."

Ending Federal Oversight
During a recent dedication ceremony at the facility, project team members and officials from CDCR and the Office of the Inspector General were overwhelmingly excited for the new mental health treatment center as it represents a greater step forward in reforming California's mental health care for inmates.
California is currently battling with federal oversight on inmate mental health care. U.S. District Court Judge Lawrence Karlton of Sacramento and his appointed special master, Matthew Lopes are currently overseeing inmate mental health care in the state. As part of the federal oversight, the state is also required to reduce its prison population to 137.5 percent capacity.
"I'm not on anybody's side. I'm not on the department's side, I'm not on the side of the inmates, I'm on the taxpayer's side. Doing the right thing and keeping us out of lawsuits and away from federal oversight is the primary goal of my agency," said Robert Barton, inspector general. "I started in the Office of the Inspector General in 2005 and to see the improvement of the system has been remarkable, they really have gone leaps and bounds from where they were then."
The new unit in Vacaville is just another example of the progress that the state is making, said Beard.
CDCR has spent more than $1.3 billion since 2009 on facilities to improve inmates' mental health care, according to the state's corrections department.
"The judges need to start recognizing that California has done a good thing and have moved this system forward — and we're there now," said Beard. "In some ways I think the continued oversight from the court can actually slow us a little bit from moving forward at this point."
Beard explained that the oversight is currently moving through the legal process and facilities like CMF can be used as an example of the progress the state has made.
"The courts set that 137.5 percent of original design capacity, but when you build a big facility like this and build those housing units that they built here for mental health treatment — does that not increase your ability to handle more inmates or more mentally ill inmates? And you see, we're not getting credit for that at this time," Beard explained. "The hope is that we can get the courts to understand that they really have to look at what our rated capacity is and take 137.5 percent of that — if they did that then I think we could be as much as 10,000 under what the courts want us at, instead of 10,000 over."
Beard explained the upgrades that have taken place in California since the federal oversight has been in place, and raised an interesting question: "If you look at all the improvements and if you build all of this, don't you think that it should give you some credit in the whole capacity?"