Cuomo Announces Prison Education Plan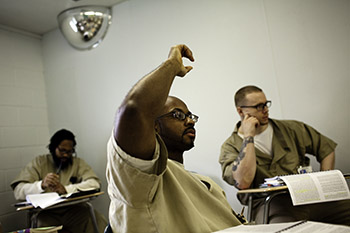 ALBANY, N.Y. — A recent proposal by New York Governor Andrew Cuomo (D) to expand inmate education spending is receiving some backlash. The proposed initiative would help prison inmates earn associate and bachelor's degrees while incarcerated, and is being touted by Cuomo as a way to save money and lower recidivism rates. The governor first announced the new plan alongside New York City Mayor Bill de Blasio in Albany on Feb. 16 at the state's Black, Puerto Rican, Hispanic & Asian Legislative Caucus.
"Giving men and women in prison the opportunity to earn a college degree costs our state less and benefits our society more," Cuomo said in a release. "New York State currently spends $60,000 per year on every prisoner in our system, and those who leave have a 40 percent chance of ending up back behind bars. Existing programs show that providing a college education in our prisons is much cheaper for the state and delivers far better results."
However, opponents say the proposal would put an undue burden on New Yorkers who are already struggling to pay their own tuition fees. A petition was even launched by Sen. Greg Ball, R-Patterson to oppose the plan.
"In a world of finite resources, where we are struggling to find funding for education for our kids, the last thing New York State should be funding is college tuition for convicts," Sen. Ball said in a statement. "As some are unveiling 'Attica University', millions of New Yorkers right now are wondering how the heck they are going to pay student loans and help their kids go to college. Why not help them?"
Despite the criticism, the governor believes many will be open to the plan. "A person who is paying to put their kid through college, they understand how expensive college is and then they have to pay these state taxes on top of it," Cuomo said. "What they are really saying is I can't pay all these bills. And the taxes are driving me crazy."
Cuomo also told reporters in Rochester that, just based on the numbers, even conservatives should consider the program a great investment. "You want to save money? Get the inmate educational skills; the recidivism rate goes down to 4 percent," Cuomo said. The governor added that those who leave prison with a college degree have "a real shot at a second lease on life because their education gives them the opportunity to get a job and avoid falling back into a cycle of crime."
The New York Department of Corrections has already been partnering with local colleges since 2007 to offer degree programs at nearly two dozen state prisons. However, currently this initiative is funded with private money. Cuomo's proposal would reinstate public funding, which was ended by former Governor George Pataki in 1995.
To help administer the program the state will issue a request for proposals to education associations in early March. At this point the total cost of the program is unclear, but officials estimate it will take an average of two and a half to three years for inmates to complete their degrees.