Tabor Correctional Institution Debuts Addition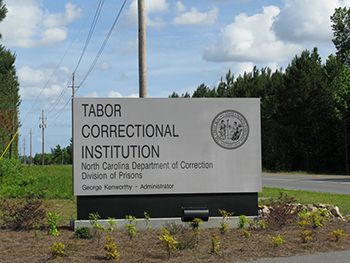 TABOR CITY, N.C. — An addition to the recently opened Tabor Correctional Institution in Tabor City was completed earlier this year with inmates moving in this past February. The 252-bed addition brings the facility's capacity to over 1,700, making it the second largest prison in the state behind Scotland Correctional Institution. Both the Scotland and Tabor prisons were part of a six-prison building effort that ended with the opening of Tabor Correctional in 2008.
"This dormitory addition to the Tabor Correctional Institution was a central component in the department's 10-year capital plan to add bed capacity needed to satisfy inmate population forecasts by the North Carolina Sentencing and Policy Advisory Commission," said Bill Stovall, PE, director of engineering for North Carolina Department of Public Safety's (NCDPS). "This forecast, issued on an annual basis, resulted in a capital expansion plan in 2007 that provided appropriations for dormitory additions at six major institutions, ultimately adding 756 minimum-security beds by construction of three 252-bed prototypical dormitory additions and 2016 medium-security beds by construction of four 504-bed prototypical dormitory additions."
Work on the Tabor Correctional Institution addition began in January 2011, almost three years after the facility opened. The $13 million addition was designed in-house by the NCDPS' engineering and architecture staff and built with inmate labor through the Inmate Construction Program, said Keith Acree, spokesperson for the NCDPS. Charlotte, N.C.-based Little & Associates served as the architect on the original project, while Raleigh, N.C.-based Balfour-Beatty served as the construction manager.
Before the addition, Tabor Correctional was a close-custody facility, the state's highest level for incarceration. There has only been a small group of minimum-custody inmates at Tabor Correctional, like those who now inhabit the addition, whose status allows them outside the gate for custodial duties.
In terms of security , a key design element was achieving optimum line of sight capability for custody staff in order to promote efficient supervision of the inmate population, Stovall said. In addition to direct supervision of inmates by custody staff in the three 84-bed management pods, the building has a central core that allows excellent line of sight from the central core into the three pods over a 180-degree span.
"The building's fire protection system design also balances simplicity with highly effective life safety protection by treating the entire building as one smoke-control zone," Stovall said. "This design approach further enhances the lines of sight by avoiding the multiple smoke and fire rated partition walls associated with a multi-zoned smoke control system that otherwise would pose visual restrictions for the custody staff."
Completely self-sufficient, the facility houses a central energy plant, commercial kitchen and laundry, as well as dental and minor medical facilities, recreational facilities, administrative offices and a visitation area. Inmates have scheduled access to a gym and outside courtyard. Specialized systems include an emergency power system, state-of-the-art HVAC, electrical, life safety and security systems.
The site of the institution became a challenge during construction because it posed unique structural foundation issues due to a high water table and low bearing capacity of the native soils, according to Stovall.
Site preparation took longer than any of the other six dormitory additions in this program," he said. "The dormitory building pad required the placement of a soil surcharge that remained in place for better part of a year in order to achieve acceptable bearing capacity consolidation for the foundations. Considering the extended time required for preparing the site, precast panels were selected for the building's exterior envelope to facilitate quicker 'dry-in" so that inmate crews could undertake building systems installation sooner on the construction schedule."
Now that the project is completed, the addition of a highly efficient minimum-security dormitory at this major institution has allowed the NCDPS to close less efficient and more maintenance-intensive older facilities, in some cases facilities more than 80 years old, Stovall said.
"Placement of this minimum- security dormitory as a satellite to a large, relatively new high-security institution enables the department to capitalize on economy of scale from this dormitory sharing its core support operational needs such as administration, food service, medical and maintenance functions with the larger institution," he added.