DeKalb County to Begin Jail Expansion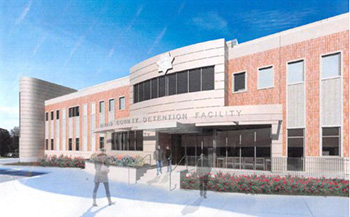 SYCAMORE, Ill. — Plans are underway for the $35 million DeKalb County Jail expansion project in Sycamore after Sycamore City Council members reviewed a tentative timeline, with construction expected to begin in the spring and be completed by summer 2018.
Brian Kerner, based in the Elgin, Ill., office of Dewberry Architects, presented jail renderings and the construction timeline to the council on Jan. 19, reported Daily Chronicle. The county will be in the bidding process for contractors until March. North Locust Street, from East State Street to East Exchange Street, will be vacated for the project; however, citizens will still have access to the Sycamore Public Library and the jail because Exchange Street will be partially reconstructed to accommodate two-way traffic, according to Daily Chronicle. Construction on Exchange Street will start later this spring, and the completion of that excavation work is scheduled for July. To compensate for the 100 parking spots that will be lost during construction, the county also added a new parking lot this past fall.
The expansion was first proposed in March 2004 to help accommodate the area's increase in population to 18,500 by 2025, reported Northern Star. DeKalb County completed a jail study that year, which predicted significant population growth as the area transitioned from a rural to more suburban landscape. It also noted that the existing jail would likely not be able to keep pace with that growth, as it suffered from "a severe shortage of space for housing, supportive services, programs and administrative functions."
Built in 1980, the county's existing jail contains less than 90 beds, including those in holding cells and work release areas, with a functional capacity of just 72 beds. A 2011 study of the jail's average daily population showed that — with the exception of 2009 — the number of inmates per year has steadily risen. The jail regularly averaged 145 inmates last year.
As of June 2015, the DeKalb County Jail regularly exceeded its rated capacity, and local leaders hope the proposed expansion will alleviate crowding for the foreseeable future. The project would also eliminate the need to house inmate in neighboring counties, which has cost the county approximately $7 million since 2007.
The expansion project will not only increase the jail's capacity by 60 beds, but it would also add crucial facilities such as a kitchen and laundry area as well as meeting rooms and other supportive spaces. Plus, safety features will also be added to the new building, including well-lit parking lots and a black, vinyl fence for the inmates rather than a razor or barbed-wire fence.
The jail is being mostly paid by fees from the expanded landfill near Cortland, Ill., instead of having to increase property taxes, according to Daily Chronicle.