Lafourche Parish Correctional Complex Underway
By Daedalus Howell
THIBODAUX, La. — Lafourche Parish is in the heart of Louisiana's Cajun Bayou, and it's known for its gumbo, mysterious swamps and "unapologetic Cajun culture," according to its visitors bureau website. Someday, it might also be known for its state-of-the-art correctional complex.
Last year, officials hosted a groundbreaking ceremony for the $42 million, 134,000-square-foot Lafourche Parish Correctional Complex (LPCC). Baton Rouge, La.-based GraceHebert Architects and Duplantis Design Group of Thibodaux designed the new 600-bed, direct supervision facility, which will feature a more open floor plan for increased security. The complex is slated to open in August 2018 and comes as a result of a rigorous creative process.
"We approached it a little differently," said Adam Fishbein, partner and architect at GraceHebert Architects. "The client had some really strong ideas about not doing what the standard is in corrections and kind of pushing the envelope."
That client was Sheriff Craig Webre. Twenty-five years ago, Webre took his oath of office as the new sheriff of Lafourche Parish, which had been battling a longtime incumbent and a swarm of federal indictments and local investigations. Then, only 30 years old, Webre was one of the youngest sheriffs to ever hold office in Louisiana, but he was driven and had a vision that persists through the new correctional complex. Sheriff Webre has long lambasted the present jail, which was built in 1976, as both overcrowded and outdated.
"He was a champion for this process," said Fishbein of the sheriff's dogged, hands-on approach. "He fought to get the tax passed and was able to get it done. He was adamant that we were going to do it a certain way, and we fell right into that line and really appreciated all the input from him and his staff. Throughout the whole design process, he had a jail transition team that constituted between 10 and 15 participants from all different parts of the operation that they currently have with an advocate from each area."
The result is a new jail located on a 42-acre property within walking distance from the parish's existing 245-bed correctional facility. The LPCC is a 120,000-square-foot, 600-bed development that facilitates everything from intake processing, work release and video visitation as well boasting a medical unit, kitchen and classroom space for rehabilitation.
Though correctional officials had initially considered other sites within the parish, Thibodaux proved to be the most cost-efficient and convenient location given its proximity to where inmates appear in local courts. Construction was overseen by Jim Brown, director of preconstruction services at W.G. Yates & Sons Construction in Biloxi, Miss.
"He was very adamant that this facility be direct supervision, and it will be," said Fishbein of the sheriff's desire to embrace contemporary inmate management. The direct supervision model forgoes isolating inmates in cells in a linear fashion and instead clusters them in around a central monitoring area. As a result, inmates spend the majority of their time sharing common areas where corrections personnel can continuously monitor their behavior and directly interact as necessary.
"But there's always a fallback position if they have to go to indirect and ways to accommodate that as well," Fishbein added.
As a firm, GraceHebert had copious experience designing correction and justice facilities. Likewise, Duplantis Design Group was responsible for several successful architecture and engineering projects throughout the parish. During the project, however, the sheriff and his staff maintained their presence and input.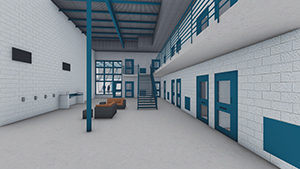 "We discussed everything that occurs from the moment an offender enters the jail to the moment they are released from the jail," recalled Major Marty Dufrene, the sheriff department's special projects coordinator, who is overseeing the completion of the new jail. "The jail consultant compiled all the information in a narrative, and the design firm applied square footage to the concept. We met a few times to review, evaluate and modify spaces."
Beginning in August 2015, the Lafourche Parish Sheriff's Office staff, the design firms, project manager and jail consultant met for six, eight-hour days, scheduled over a four-week period, to discuss the various programming initiatives. By the following September, the design was finalized and, as Sheriff Webre told The Lafourche Gazette, "It's clear they share our passion for corrections, and I have no doubt they will design a first-class facility for Lafourche Parish."
In October 2015, the designers began working on schematic design reflective of their client's unique needs.
"It's predominantly client-driven," said Fishbein. "It's really the philosophy of whoever's in charge. They had some strong beliefs, and they had visited a lot of places, and we tried to instill all that in this new facility. We spent quite a bit of design effort on library space and classroom space, and the medical component is very nice."
To read the entire article, check out the September/October issue of Correctional News.