New Seward County Justice Center Takes Advantage of Sustainable Tech
By Rachel Leber
SEWARD, Neb. — The much-awaited Seward County Justice Center in Seward is now complete, after a three year design and construction schedule — and a great deal of thought in the planning.
The architect on the project was Goldberg Group Architects PC (GGA) based out of Saint Joseph, Mo., with Bechenhauer Construction based out of Norfolk, Neb., serving as the construction manager on the project. Pauly Jail Building Company served as the detention equipment contractor on the project. The 43,483-square-foot, three-story facility had a budget of $15.7 million.
The previous Seward County jail and historic courthouse were built in the 1970s, and both buildings were increasingly failing to comply with state standards to provide adequate space, modern facilities and buildings systems and security for modern detention and judicial functions.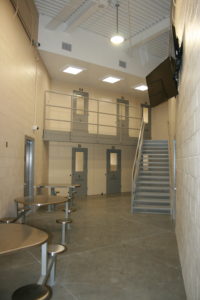 The new justice center was completed in fall 2017, and combines the county's sheriff's office, courts, attorney's office, emergency dispatch center, public defender's office and probation programs. The new facility doubles the capacity of the previous detention center, with a 60-bed radial podular jail, which will eliminate costs for housing overflow inmates and includes new space for recreation, laundry, kitchen and medical areas.
Seward's project was originally designed as as two-phase renovation and expansion project. Once Beckenhauer Construction joined GGA on the project team as construction manager, the option for complete facility replacement began to emerge, according to Lawrence Goldberg, AIA, NCARB, ASC, president and senior principal at GGA.
"There's no doubt that replacing the older jail was the better option," said Joe Yocum, sheriff of Seward County. "But Goldberg had to figure out how to get 25 pounds of architecture into a 10-pound box — and we're glad he did!"
GGA was able to take advantage of the sloped site immediately adjacent to the previous jail by stacking the three levels of the new facility efficiently, according to Goldberg. In addition, the "extremely compact facility" was achieved in part due to the use of rear-chase modular steel cells, which Goldberg has incorporated into his firm's designs for more than 15 years.
"Compact construction, thinner steels walls versus block and showers in every cell adds up to saving space in the most expensive portions of the facility, which is why our practice uses modular steel technology on every project that we design," Goldberg said.
The new facility includes sustainable features such as energy-saving lighting with automatic shutoffs, water-saving plumbing control system fixtures as well as pre-wired detention equipment. In addition, the modular steel cells are manufactured from recycled steel. "While I often question the value of formally taking a public facility of the complex and extensive process of LEED certification, the benefits of sustainable technology are undeniable," said Goldberg. "For this reason, as a rule, we include these features on all of our projects."
Seward County's new justice center represents the successful culmination of a process that began years ago, according to Goldberg. "Several years before the completed project began, county officials had tried to start a 60-bed jail and sheriff's office for almost $16 million — without success," he said. "Nearly five years later, they were able to move forward on an entire justice center for nearly the same cost."