CDCR's K-9s Fight Contraband in California

Vital Stats
Name: Wayne W. Conrad
Age: 57
Title: Statewide K-9 Coordinator
Agency: California Department of Corrections and Rehabilitation
Time Served: 25 years
Last Book Picked Up: Going Rogue: An American Life by Sarah Palin
Hobbies: K-9
Motto: Never leave anything for tomorrow you can do today
As statewide K-9 coordinator for the Department of Corrections and Rehabilitation, Sergeant Wayne W. Conrad sits on the front line of California's battle against contraband.
Conrad knew at the age of 18 he was really into dogs, so much so that he has spent the majority of his adult life working with them in one capacity or another.
As you can hear from his accent, which has not abated in the 30 years since he moved to California, Conrad was born and raised in Brooklyn.
He first worked with dogs professionally at 18 years old, when he entered the U.S. Marine Corps and a position opened up for a narcotics detection K-9 Handler with the military police in Kaneohe, Hawaii. From there, he went on to work in New York City, for the Metropolitan Transit Authority at Starrett City, the country's largest federally subsidized housing complex.
He didn't land his first job in corrections until he moved to California in 1980, where his canines were used to search visitor vehicles and for narcotics at the California Medical Facility at Vacaville.
Conrad is now based at the R. A. McGee Correctional Training Center in Galt, Calif., about 20 miles south of the state's capital, where he oversees the CDCR's K-9 search operations program, which consists of 28 dogs strategically located throughout the state.
"I've got all these dogs out everyday of the week some place, searching, so they are always working," Conrad says.
Before a dog is ready to do a live contraband cell phone search, it will have had 160 hours, or four weeks, of formal training. After the training, dogs are Peace Officer Standards and Training certified by an independent evaluator who has no connection with the training of the dogs. For every hour you search, the dogs need to be trained for an hour and they have to get out and search every day, Conrad says.
After doing extensive research and determining that cell phones give off a unique scent, Conrad helped launch the department's K-9 cell-phone detection pilot program in late 2008.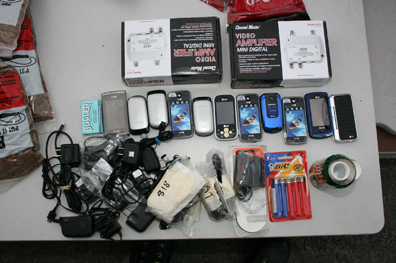 Caesar was the first dog trained for contraband detection, and it was based on that dog's success that the department went forward with the program. The dog, an eight-year-old Belgian Malinois from was purchased for $350 from Debbie Skinner, of PawsnClaws Inc., a nationally recognized breeder and trainer. Since then, Skinner has provided numerous dogs to the CDCR at little or no cost.
"We started training Caesar in December 2008 and he was put into service in April 2009," Conrad says. "Almost immediately, we were successful. We were finding cell phones hidden in radios, in packages coming in, in the walls. Every time we'd go to work, Caesar was coming up with cell phones. We got to the point where we walk up to a cell, and we were just having inmates hand us the phones."
When the department decided they needed a second dog, Skinner provided a second Belgian Malinois, Drako, who was being poorly kept by a trainer. Skinner treated and cared for the dog, before donating it to the department at no cost.
Conrad says there would be no K-9 program if it were not for people like Skinner, and Stephanie O'Brien, of K-9 Behavioral Services.
"Everyone of our dogs has been a donation," Conrad says. "We have not paid anything for any of these dogs, maybe only a small adoption fee or shipping charge."
O'Brien has given the department seven dogs, and she is preparing to donate an eighth dog.
"We feel its even more of a duty now to keep the Belgian Malinois a working breed and not a household pet," O'Brien says.
A Belgian Malinois, Cairo, worked with the SEAL team that raided Osama bin Laden's compound in Abbottabad, Pakistan.
"When it comes to performing searches, the dog of choice for us is the Belgian Malinois," Conrad says. "I do have a few German Shepherds, and those dogs are sent to prisons where the climate is a bit cooler."
In training, Conrad will take several televisions and line them up, and stick a cell phone in one of them. He says that 100 percent of the time, the dog will go to it. He's never had a dog pass one up.
The department's dogs are available seven days a week, 24 hours a day.
"We will swoop in with the element of surprise," Conrad says. "Nobody knows where or when we are going to be someplace and that is where our success lies. When we are walking down the tier you can actually hear the progression of toilets flushing. They don't know where we are going to hit or when we are going to hit. These dogs have become so good that rather than get caught with the drugs, they flush it in the cell."
Have a question about K-9 units? Send it to cn@emlenpub.com, and look for more info. on K-9 programs in the July/August issue of Correctional News.