A Model for Female Correctional Design

The $28 million, 99,000-square-foot Naval Consolidated Brig addition to NAVFAC's (Naval Facilities Engineering Command) existing confinement complex at the Marine Corps Air Station in Miramar, Calif., is special. Not just because the expanded complex serves as the Navy's confinement facility for the entire Southwest or because it will absorb prisoners from other NAVFAC correctional facilities scheduled for closure, but because it is a model for female correctional design and rehabilitation.
With the expansion complete, the Naval Consolidated Brig Miramar at Marine Corps Air Station Miramar reopened its doors in February as the Joint Regional Correctional Facility Southwest.
Delivered by the design-build team of Clark Construction and KMD Architects, the new addition is a multi-story structure incorporating 120 completely furnished, precast concrete cells for men and 80 completely furnished, precast cells for women. In addition to the cells, the facility features a new prisoner processing center; a new entrance lobby and visitor's center; health services unit; a new, state-of-the-art kitchen; a large mess hall and multipurpose room; staff support space; classrooms; conference rooms and a separate, stand-alone vocational building housing several workshops.
But none of that compares with the women's housing unit, designed as Level 2 security housing for pre-trial, Level 3, incentive and general population groups, as well as the disciplinary and administrative segregation populations. Similar to the men's housing unit, the women's unit is designed for direct supervision, with cells organized on two levels around a central, two-story dayroom, but departs from the men's unit in significant ways.
"The client was interested in having a unique aspect for the women's wing and not have it be just like the men's wing, which looks like any other men's jail," said Larry Hartman, vice president at HDR Architecture, which also worked on the project.
"It was a project with a lot devoted to developing the women's facility using the latest for women prisoners," said Bill Bashore, the command evaluator for the JRCFS and co-coordinator on the expansion project. "Historically, women's facilities are built to men's standards, then 'painted pink.' Women prisoners are defined a lot by the relationships they make in an institute, so we tried to design the facility to give them the ability to form relationships and interact with staff."
To do that, several design elements were incorporated into the women's housing unit that aren't normally found in a men's facility. The housing unit and dayroom, for instance, are rectangular (men's units are triangular to allow for direct supervision by staff) and is divided into five smaller rooms by partial-height glazed walls as a way to facilitate the formation of relationships between the various subpopulations while still allowing for direct supervision.
"If you're there for 90 days, your needs are a lot different than those of a lifer," said Bashore. "The two may not be antagonistic toward each other, but the lifer may not feel good around [the inmate with the 90-day sentence]. They have different perspectives and a whole different set of needs, and the [sub-dayrooms] are more conducive to allowing women prisoners to choose their community."
Separation was further incorporated into the design to enhance relationship building by placing cell units in groups of five around each sub-dayroom and separated by partitions to create a broken sight line. "They wanted to create these relationships and said they didn't want women to look out of their door and see 30 other cell doors," said Alan Petrasek, senior vice president at Clark Construction Group/CA, LP. "The small partitions stand out and make it look like [the cell doors] are not lined up, but they are."
The laundry and indoor exercise rooms slightly jut into the main dayroom to create separation as well, and changes in wall color and floor finishes heighten the effect. A large, linear, translucent skylight running the length of the dayroom dramatically unifies the space and provides generous amounts of natural light.
"We've learned that the rehabilitation of men and women happens in different ways," said Petrasek. "The industry concept is called 'normalized'; the idea is that you're living in a more normal environment as opposed to one that is austere." To create such an environment, hollow wooden doors with a Richwood finish and porcelain sinks were used rather than the heavy metal doors and stainless steel sinks found in men's institutions.
"[Female] offenders respond to the environment in different ways and are easier to manage if they have the ability to socialize and get away if they need to," said Hartman. "It's easier to manage a population and have a safer environment."
Privacy was also a consideration in creating a normative environment, and privacy screens were installed in the showers and around cell toilets to shield women from view while still allowing correctional officers to keep an eye on them. "For males, privacy is not a big deal, but it is for women," Bashore said.
"There is a need for good observation by officers, but there is a need for women to have privacy," added Hartman. "Privacy panels provide for both."
While the complex's main laundry facility washes the women's uniforms, sheets and bedding, smaller laundry facilities were included on the women's unit to allow them to wash their own undergarments, in turn adding to their sense of privacy.
A pantry unit for pregnant women who need extra nutrition was also included in the women's unit.
An acoustical tile ceiling to reduce background noise and the placement of a window in every cell to allow for ample daylight contribute to the normative environment as well as to rehabilitation. Designers also used soothing colors — off-white, magenta and plum—instead of the traditional monochrome white or gray found in men's facilities.
"We wanted to reduce the harshness of the unit, provide for privacy, give them community and a greater sense of self-worth," said Bashore.
But why did the Brig place so much emphasis on women and the women's wing?
"The philosophy is that women have a better track record of getting their lives together, and [the Navy] wanted to support that," said Ivan Romero, project architect at KMD Architects in San Francisco. "Our San Diego women's jail proposal approach was the same. And even though they might be there for serious crimes, women don't subject the facility to as much physical abuse," so using "softer" materials in the facility is more feasible. The women's segregation unit, however, is outfitted with the "harder" design elements found in men's prisons, Romero said.
KMD's Vern Almon says softening women's facilities "is definitely a trend in correctional design, not only at the federal but also the state and county levels."
"Women tend to be more sensitive and have been found to be more responsive to a normative environment," he said. "They tend to be less violent and oftentimes are on good behavior incentive because they have kids they want to see. In the case of Miramar, because the women are members of the Navy, the "kids" incentive is probably not in play as much," he added.
The men's housing unit is a Level 1 facility for 120 male service members designed for direct supervision. The housing is organized into two separate management units of 60 cells each — 30 cells on the main level and 30 on a mezzanine level. The cells are laid around a triangular dayroom that is two stories high with clerestory windows to allow for natural light.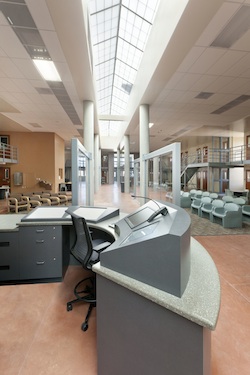 "We didn't want to slight the men; we added natural light where we could," Bashore said.
Each unit has its own indoor recreation space but share one common outdoor recreation space. A common block of support space containing a large conference room, group rooms and a kitchen conjoin both units. The conjoining support space is single-story and provides the optimal location for air handlers that efficiently deliver tempered air to each unit and serves to screen the mechanical equipment from view by the two-story housing units.
Whereas the emphasis in the women's unit is on forming relationships and community with whomever they choose, the men's unit places more emphasis on who is housed with whom. Inmates are classified by personality type — alphas, who are overly aggressive; betas, who are very weak; and those who associate with both groups — and housed accordingly. "We are more selective in how we house the men," said Bashore. "We wouldn't want to mix someone who's vulnerable with an aggressive person."
The addition's cells and parapet panels located above the cells are entirely precast. Non-cell walls are 8-inch thick concrete masonry units with rigid insulation and cement plaster on the exterior. The structural frame is composed of steel columns with girders, open-web steel joists and a steel deck, while the roofing is composed of R-30 rigid roof insulation and built-up roofing with a cap sheet. The stand-alone vocational building is a pre-engineered structure with metal wall and roof panels. HVAC systems are central hot and chilled water systems, and a roof solar panel system is used for the domestic hot water. The project has earned LEED Silver certification from the U.S. Green Building Council.
"Precast concrete was a much better product for scheduling," said Petrasek. "We built a mock-up and installed all the plumbing. Once the mock-up is finished, it speeds things up and saves at least a couple of months."
"It gives very good quality product, too," he added. "All you have to do is put in the hardware, the locks, and it's ready to go."
A large, new parking lot for staff and visitors linked to the new entrance by sidewalks and landscaping is located next to the facility, and a new service road leads from the parking lot around and south of the new addition to connect with the new vocational building.
A particular challenge for the design- build team was the project delivery schedule, said Romero. Although the RFP stipulated a completion date of Feb. 28, 2011, the project NTP was not received until October 2009, thereby providing about 17 months to complete both the design and construction. Environmental restrictions that required NAVFAC to clear the site before the breeding season of the California Gnat Catcher (the Navy purchased property to mitigate the project's encroachment into the endangered bird's habitat) also crunched the team for time, so they fast-tracked the site work with an early site package, chose precast cells to shorten the time for building enclosure and used BIM to produce the design documents, enabling them to produce a biddable set of documents in just six months. Typically, a job of such scope would take eight to nine months, Romero said.
Project Team
Architect: Ivan Romero, KMD
General Contractor: Clark Construction
Detention Equipment Contractor: Norment
Owner Representative: Sam Kaplan
Project Manager: Albert Valdivia, Clark Construction
Facility Data
Facility Name: Joint Regional Correctional Facility,
Southwest; Miramar, Calif.
Type: Military Correctional Facility
Owner/Operator:
NAVFAC /U.S. Department of Defense
Construction Budget: $28 million
Number of Beds: 200
Size: 97,800 gross square feet
Design/Construction Start Date: Oct. 1, 2009
Product Data
Food Service: Kamran and Company Inc.
Steam Kettles: Kamran and Company Inc.
Cabinet Steamers: Kamran and Company Inc.
Walk-In Coolers/Freezers: Kamran and Company Inc.
Refrigeration: Kamran and Company Inc.
Ovens: Kamran and Company Inc.
Custom Stainless Equipment: Kamran and Company Inc.
Correctional Furniture: Chief
Detention Accessories: Acorn
Security Systems: Cosco Security
PLC: Cosco Security
CCTV: Cosco Security
UPS: Gould Electric
Touchscreen System: Cosco Security
Intercom: SimplexGrinnell
Card Access: Cosco Security
Security Glazing: Global/Oldcastle
Security Windows: Hope's
Security Cell Doors: Habersham
Security Fencing: FenceCorp
Security Locks: R.R. Brink Locking Systems Inc.
Security Penal Plumbing: Acorn
Security Sprinkler Equipment: Western Fire Protection/Tyco
Security Fire Equipment: Fire Alarm – Cosco Security
Smoke Detection System: Cosco Security
Weapons Detection System: San Diego Office Interiors
Concrete: J/R Concrete
Precast Concrete Cells: Oldcastle
Exterior Finish: Nevell Group
Roofing: Bishop Roofing
Gypsum Wallboard: Nevell Group
Floor/Wall Tile: SC Tile
Sally Port/Doors: Tower Glass (Front Entry System)
Plumbing: Sherwood Mechanical
HVAC: Brian Cox Mechanical
Security Cell Lighting: Kenall