First Families of Corrections: The Oziers of Willo Products Inc.
When they were kids, Lynn Ozier and his little brother, Jack, would work up a sweat, swatting a sling blade at the weeds growing between the steel beams stacked behind their daddy's factory in the Alabama hills.
"It made the beams easier for the forklifts to grasp," Jack Ozier recalls. "We were fighting the hornets and bumblebees in that hot Alabama sun, but we were paid a dollar an hour. Eventually we got to move indoors to degrease the machines."
That hands-on, grassroots — in every sense of those words — experience typifies the corporate culture of Willo Products Inc., a family enterprise since 1945, when Melvin Ozier joined forces with his friend Bobby Wilson to create "Willo," a portmanteau of their surnames. "Of course, people often misspell it as 'Willow,'" Jack Ozier says. "Dad wanted an all-purpose name for his company that would allow it to pursue any product line wherever he saw an opportunity."
Over the decades, to meet the demands of an ever-expanding market, the Decatur-based company's considerable output has dovetailed toward a singular purpose: detention products, including locks, locking devices, hollow metal doors and windows, and other customized equipment. These products are used in more than 1,500 jails in the United States, Puerto Rico, and other international sites, and the company provides detention equipment, repair and maintenance, and retrofit services to institutions ranging from 2-cell jails to 2,250-bed facilities.
So Willo functions as one of the longstanding anchors of the Security Electronics Corridor of Alabama, which starts around the high-tech Huntsville-Decatur area in the hills and bisects the state like a silver zipper for 360 miles to Mobile on the coast.
Because of the rich deposits of iron ore, coal, and limestone in the northern part of the state, Alabama was supplying an estimated 40 percent of the country's steel by the 1940s. Melvin Ozier had worked as a draftsman at Decatur Iron and Steel Company (known by the unlikely acronym, DISCO), where he worked on tanks and tested military ships in the Tennessee River. After the war, he expanded into miscellaneous structural projects, and, later, when DISCO closed, many of its engineers found work at Willo, which entered the corrections market with its first locking device in 1968.
Meanwhile, Ozier's sons had been boning up on the more intricate points of research and development.
Lynn, who is a year older than his brother, studied structural engineering at Vanderbilt and earned an MBA at Rice University, while Jack majored in building science at Auburn. In the early 1970s, they went to work as project managers, assuming increasing responsibility, and less than a decade later, they "shifted the company's focus 100 percent into jail and prison design work because that was the emerging field," says Jack, whose title is Executive Vice President, with Lynn serving as President.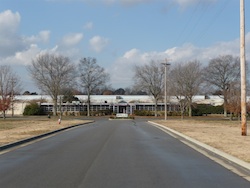 As with other older, successful "grandfather" firms, Willo has helped to launch at least five other companies, including Slate, South Western Communications, and Cornerstone, and many of the industry's leaders started at Willo or passed through its friendly halls at some point, especially with the company's reliance on the feeder system of Alabama's strong vo-tech programs. Mitch Claborn, CEO of Cornerstone, worked at Willo in 1978 as a co-op student, stocking the blueprint machines with ammonia.
"The founder, Melvin Ozier, did not draft with a heavy hand," Claborn recalls. "So, one time I cranked up the machine as high as it would go, and that thing went haywire, shredding and spitting out paper left and right, which I frantically tried to Scotch-tape together. It was a terrible mess! He'd been working on that project for month. He could've fired me on the spot then and there, and possibly ended my career before it began, but he didn't. He was a very hard worker, but he was also a very understanding boss."
That anecdote does not surprise the Ozier brothers. Their father, who died in 1994, also was known for his detail-oriented approach and his deep enjoyment of the creative, drawing aspect of his work.
"Dad never strayed too far from those drafting boards," says Lynn Ozier, who, like his brother, speaks in an unhurried Southern accent. "We've always stayed competitive and strive to meet our deadlines but, following his example, we've tried to keep any unnecessary stress to a minimum, to create a laidback, family-oriented atmosphere where everyone feels comfortable."
In fact, at age 60, the family matriarch, Lossie Mitchell Ozier — Melvin's mother, affectionately known by the nickname "Muz" to everyone at Willo — decided to take a job in the company's accounting department, where she meticulously took care of business for the next 19 years, without ever missing more than three days of work. "She kept all of our petty cash in three coffee cans — that was her banking system, and somehow it worked," Jack Ozier says with a chuckle. "She was a colorful character."
Today, Melvin Ozier's daughter, Kitty Ferrell, plays a similar but more high-tech role in accounting, and Jack's son, Jackson, works in the estimating department. Lynn's younger son, an industrial engineer, also is considering joining the family business, which oversees 90 employees at its Decatur headquarters, with 15,000 square feet of offices and 130,000 square feet of manufacturing space.
The Oziers also work with a management team of long-time company stalwarts: Dave Wood in construction and sales; Jerry Riggs in renovation and sales; and Brian Foss in engineering management.
Willo lately has specialized in upgrades and retrofits, converting slamming doors to sliding doors; modernizing control consoles; and replacing electronic locks.
"We use the existing heavy steel components such as the steel housing, door lock post, and door guide, we can reduce the down-time for the facility during the conversion process and maximize the cost savings versus a complete replacement," says Jack Ozier. "So the retrofitted sliding door locking device will be the same quality as a new one. We're always scanning the horizon for ways to make the old products better as well as for fresh ideas to design completely new and different products. We're open to all possibilities."
Just as Melvin Ozier intended.