Much-Needed Jail Breaks Ground in Georgia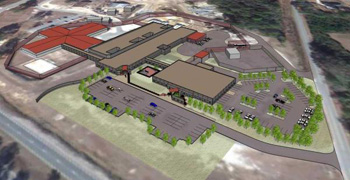 SPRINGFIELD, Ga. — A new jail in Effingham County recently broke ground in response to severe inmate overcrowding in the area. Ground was broken on the project in late February and is expected to take around two years to complete.
The existing jail in the county was not up to the standards of Sheriff Jimmy McDuffie — as it only has 130 beds and has to utilize other counties for their facilities, including Screven, Liberty, Bryan and Jefferson counties. It costs about $25 a day to house inmates in neighboring counties, which results in about $200,000 a year.
The original jail was built in 1993 and from the get-go experienced a number of maintenance and structural issues. Overcrowding is something Effingham County is all too familiar with. When the existing jail was first built it was in response to a settlement of a federal lawsuit over overcrowding at the previous jail, which is now a museum in the county.
"The rust and the deterioration of the building because of the leaks is terrible. It has been one thing after the next. It's finally gotten to the point where now it is a security and a safety issue. The building is falling apart," McDuffie said in a statement.
The new $15.5 million jail construction and renovation project will be in response to years of an inadequate facility. The new 328-bed will more than double than existing facility and ease the burden of overcrowding. The new facility will be connected to the existing state prison by a hallway, and both the prison and the jail will share facilities including the kitchen, and laundry facilities, which are being renovated to fit the added capacity.
The new 50,000-square-foot jail will also include video visitation in order to limit disturbances such as the possibility of contraband transfer. Video arraignment will is also available at the new facility.
"The building is designed to minimize the movement of inmates, so classification, medical surveys and inmate property are in close location to the intake and booking area," said Adam Kobek, director of community relations for the county, in a statement to a Savannah newspaper.
The jail will also have a medical suite, intake and booking area, secure entrance for inmates and a library access area.
Savannah-based Rives E. Worrell is the general contractor serving on the project, alongside architects and engineers, Hussey, Gay, Bell & DeYoung, also based in Savannah, as well as Rosser International of Atlanta and Savannah.
Final design plans have not yet been decided on by the sheriff, but confirmation of concrete tilt wall panels and precast concrete cells have been determined.
"It's a step in the right direction," said McDuffie in a statement. "We've been trying to work on this project for several years and it looks like it is finally happening."