Valley State Prison Makes Full Transition to Male Facility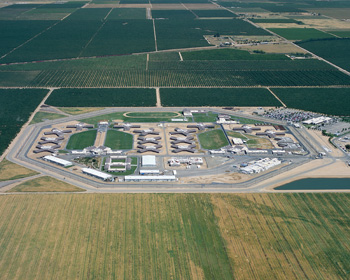 CHOWCHILLA, Calif. — Formerly Valley State Prison for Women, the new Valley State Prison recently completed its conversion from a women's facility to a men's prison in an effort to utilize facilities and relieve overcrowding in California state prisons.
The transition was prompted by the passing of the 2011 Public Safety Realignment Act, which allows low-level offenders convicted of non-serious, non-violent and non-sexual crimes to serve their sentences in county jails rather than state prisons. The heavy transfer of women from prisons to county jails caused the Chowchilla women's prison to witness a 36 percent population decrease in October 2011.
The reduction of 3,346 female inmates resulted in a serious reevaluation concerning the use of facilities available to the California Department of Corrections and Rehabilitation (CDCR), said CDCR spokeswoman Dana Simas.
"Due to a drastic decrease in our female inmates, maintaining three correctional facilities was no longer viable," Simas said. "We needed to take an efficient look at our resources."
Beginning in October 2012, inmates from VSPW were transferred to Central California Women's Facility and California Institution for Women while male inmates were transferred to the 1,980-bed facility from various state prisons.
The last female inmate was moved out of Valley State Prison January 16, the same day the 403-bed Folsom Women's Facility, housing low-security inmates, was opened.
The male and female inmates were never in contact during the transition.
Because the VSPW housed the same low- to medium-security level inmate as VSP, Simas said, the conversion of facilities did not require substantial renovation.
Requiring only two months to complete, the CDCR Facility Planning Construction and Management team retrofitted toilet and restroom facilities at a cost of approximately $5,000.
The VSP was originally designed by Voinovich, Inc., constructed by Cole Yee Schubert & Associates and opened in April 1995.
Though the move could be described as seamless, the biggest challenge of project, Simas said, was local opposition.
Local objection to the move, which included a legal challenge by the city of Chowchilla, set the project back a few months, as some feared District Attorney Michael Keitz and local protection services would become overburdened by incidents incurred by the transition and public safety could be at risk.
"The actual conversion went extremely smoothly," Simas said. "Incidents have actually gone down at the Chowchilla facility."
The conversion also provoked a protest that brought 400 demonstrators to Chowchilla with concerns that the remaining California women's prisons would become overcrowded due to the move.
Simas said there is no cause for concern and that every inmate has a traditional bed.
Additionally, the conversion would be a positive impact to the California prison system, Simas said, as it helps to relieve overcrowding in men's prisons and will assist the state in complying with federal mandates regarding prison populations.
This federal court order, implemented October 2011, demands that the 33 California state prisons reduce their inmate population to 137.5 percent design capacity, or 110,000 inmates, by June 27, 2013.
"The court can order early release of however many inmates are above that cap," Simas said. "That is the last thing the CDCR wants to happen."
With 119,000 current inmates in the CDCR system, the federal court could potentially order early release for 9,000 inmates if no changes in population occur, according to Simas.
Design capacity by CDCR standards is one inmate per cell in single-level bunks with no beds in spaces not designed for housing.
VSP is currently at 99 percent occupancy, considered low by Simas who said two inmates could easily house one cell.