2013 AIA AAJ Fall Conference Focuses on Alternative Delivery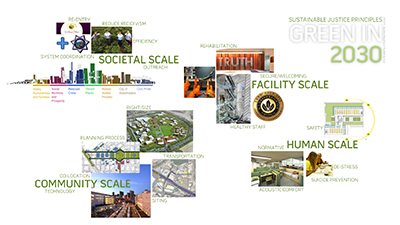 PORTLAND, Ore. — The American Institute of Architect's Academy of Architecture for Justice (AIA AAJ) is holding its 2013 fall conference in Portland this week. The three-day conference is open to AIA and non-AIA members, all of those active in justice facilities including planners, architects, owners, public safety officials, officers and administrators, contractors and vendors.
The theme of this year's conference is the evolving prevalence of several forms of alternative project delivery as those processes have been applied to justice building environments.
Among the presentations taking place at the event is one by the Sustainable Justice Committee who will be presenting sustainable justice principles.
"Our justice system has a complex, multifaceted impact on our society. It provides public safety and responds to criminal behavior through a variety of means including deterrence, incapacitation, retribution, and rehabilitation, and even restitution," according to Julia Hughes, AIA, LEEP AP, B+D and Sustainable Justice Committee chair. "Sustainability includes economic, environmental, and social equity dimensions. A sustainable relationship between our society and our justice system is one where maintaining present operations into the future consumes acceptable levels of resources and creates results that can be assimilated back into our communities."
The presentation will focus on sustainable justice buildings including the Denver Justice Center Lindsey Flanigan Courthouse and Van Cise-Simonet Detention Center; Maricopa Co. South Court Tower; San Francisco Public Safety Building, San Mateo County Maple Street Jail; and the San Diego County Women's Detention Facility.
The goal of the annual AIA AAJ National Conference for 2013 is to provide a forum for open, vibrant and provocative discussion of the "best practices" in project delivery across the total spectrum of owners, design professionals, contractors, vendors, operators, and financiers, active within the criminal justice building community, according to the organization.