New York City's New Jail to Improve Inmate Admissions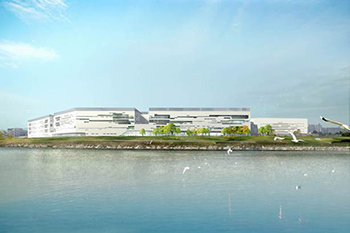 RIKERS ISLAND, N.Y. — The New York City Department of Correction (NYCDOC) and the New York City Department of Design and Construction (NYCDDC) broke ground on a new $594 million jail on Rikers Island. The 620,000-square-foot facility will feature 1,500 beds and will be designed to achieve LEED Silver accreditation. The jail is a key part of the NYCDOC's plan to advance operational improvements.
A joint venture between 1100 Architect and Ricci Greene Associates, both based in New York, is currently designing the facility. The design development phase started on Sept. 19, 2013 and will last approximately 10 to 11 months. The design consultants are developing the project using BIM applications.
The new facility will become a central point of admissions and intake for most adult inmates within the NYCDOC system. This will help create consistency in the evaluation of incoming inmates to determine the inmates' risk of recidivism and need for mental health or substance use treatment services. More efficient processing will lead to more accurate housing assignments and more effective access to services, such as the department's Individualized Correction Achievement Plan (I-CAN), a re-entry program that connects highest-risk inmates with interventions designed to reduce their likelihood of committing new offenses.
"Building a new admissions jail is a first for New York City and an important step for the department," said NYCDOC Commissioner Dora B. Schriro in a statement. "Assessing each inmate's needs and risks informs custody management and improves discharge planning and preparation, resulting in both safer jails and safer communities."
Inmates processed through the building's intake unit will spend the first seven days in NYCDOC custody in the jail before being assigned to a housing unit within their custody classification. Nearly 10 percent of all people who come into NYCDOC custody are released within 24 hours and almost 50 percent are released within the first seven days of arrival.
The facility design will feature the Direct Supervision model, which allows officers to interact directly with the inmates to better monitor and respond to their behavior. The housing units will also give inmates immediate access to services such as meals, medication and counseling services. The design team also plans to incorporate an abundance of natural light and views to the outdoors, which will create a calmer environment for the inmates.
"This project represents a new generation in the design and planning of correctional facilities," said NYCDDC Commissioner David J. Burney in a statement. "Corrections policy and research have enabled designs that promote better conditions for both inmates and officers. This new jail, designed by 1100 Architect and Ricci Greene Associates, will be secure environmentally sustainable and help lay the groundwork for inmates to re-enter their communities, which ultimately benefits us all."
The new jail will not increase bed space for the NYCDOC because a number of modular buildings constructed in the 1980s for "temporary use" will be demolished to make space for the new facility. The facility's 1,500 beds will be split up into 512 single cells, 16 dormitories with 50 beds each and 225 general infirmary beds. Additional building features include a public lobby and areas for central control, administration, staff support, visitation and health services, such as outpatient, specialty and mental health clinics. There will also be space for congregate programs, outdoor recreation and 200 additional parking spaces.
The project is slated for completion in 2018.