Multnomah County Seeks Input on New Courthouse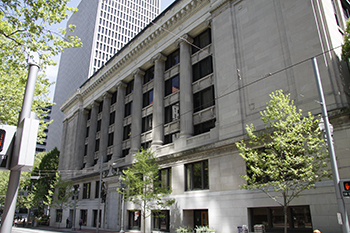 MULTNOMAH COUNTY, Ore. — Multnomah County officials are working to ensure the community's new courthouse, located in Portland, will be a safe and modern facility, as well as a reflection of employee and user needs.
The county hosted the first of two public open house events on Jan. 29 to glean input and feedback on the proposed 14-story facility, and to give community members an opportunity to learn more about the project's needs, goals and prospective timeline. The second and final public meeting will be held at the Main Jury Room of the Multnomah County Courthouse beginning at 5:30 p.m. on Feb. 5. Those unable to attend can also share their opinions on the project via an online survey available through February.
These public meetings will help county commissioners to decide on one of two potential sites for the new structure. The county already owns one of the proposed lots just off of the Hawthorne Bridge, while the other would have to be purchased. The first site also shares a property lot with a Portland restaurant that is currently using a portion of the county-owned land for outdoor seating and would be forced to accommodate the new facility.
County commissioners selected the two sites and approved preliminary project plans in December. However, research on the two sites will continue into the spring, and the county anticipates final site selection sometime in April. DAY Comprehensive Project Management of Beaverton, Ore., in association with HDR, headquartered in Omaha, Neb., will serve as the owner's representative for the project.
Whidden and Lewis, a Portland-based architectural firm originally designed the historic Multnomah County Courthouse in 1914. While the structure is iconic to the city and broader community, it was completed when the county's had a population of just 250,000. Today that population has roughly tripled and demand on the building has increased substantially, resulting in serious safety concerns and operational inefficiencies.
Described by Multnomah County Facilities Specialist Mike Crank in a virtual tour of the facility as "operationally and functionally obsolete," most of the building systems have outlived their useful life. The building received a poor rating from the Federal Emergency Management Agency (FEMA) based on seismic stability concerns, and many security features are outdated.
Additionally, the antiquated layout at times requires judges, witnesses, members of the public, law enforcement personnel and those who have been sentenced or are in custody to share the same small elevators and narrow hallways, creating a personal safety risk.
Multnomah County Commissioner Judy Shiprack voiced her support of the project, calling the project necessary, expensive and complex. "This is a not a problem that we can defer for others to solve for us," Shiprack said in a statement. "Multnomah County needs a safe, functional courthouse to conduct the business of justice, and I am confident that, working together, we will accomplish this task."