Tension Membrane Technology Used at Canadian Detention Center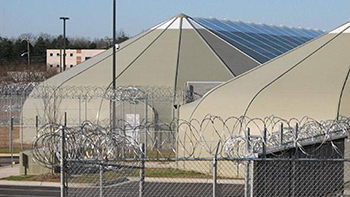 LONDON, Ontario — Construction on the new Regional Intermittent Centre located on the Elgin Middlesex Detention Centre campus in London is now nearing completion. The 112-bed project will span 25,000 square feet and help to address capacity issues, reduce contraband concerns and improve overall safety for both inmates and correctional staff.
Construction began in May 2015 on the Regional Intermittent Centre, which will house detainees serving 90-day sentences, or less — typically over weekends as opposed to all at once. Due to the building's more unique function and inmate type, it will include a separate inmate entrance to prevent contraband from slipping into the general population. Similar to more standard correctional housing facilities, it will also include natural daylighting, uninterrupted sight lines for improved safety, and a variety of security features such as cameras, floor-bolted furnishings, and electronically secured doors, locks, windows and washrooms.
In a statement, the Ontario Ministry of Community Safety and Correctional Services described the intermittent center approach as a "safe and smart way to address capacity pressures and separate offenders serving short term sentences from the general inmate population." The $8.5 million facility will open in early 2016.
"Moving forward on the new regional intermittent center at the Elgin Middlesex Detention Centre is all about improving staff and inmate safety, addressing capacity issues, reducing contraband, and building a safer community," said Minster of Community Safety and Correctional Services Yasir Naqvi in a statement. "It is a key part of our transformation of Ontario's correctional system focused on increased access to rehabilitation programs, enhanced mental health supports, and community-based reintegration partnerships."
Ontario's first intermittent center, the Toronto Intermittent Centre, opened in December 2011 as part of the newly opened Toronto South Detention Centre. While the model is no longer unique to the province, the project's use of tension membrane construction is a first. The building method uses an aluminum substructure overlaid with architectural membrane panels placed under high tension, according to a statement by the ministry. The ministry opted for the tensioned membrane design to help ensure a speedy and cost-efficient construction process without compromising security. The building will be as secure as more conventional correctional structures, and is projected to stand for 30-plus years. Additionally, the design provides ample daylighting.
Collaborative Structures of Cambridge, Ontario is providing construction management, project management and general contracting services to the design-build project, which was designed by NORR Ltd. with multiple locations worldwide. Sprung Structures of Aldersyde, Alberta is supplying the tension membrane materials.
Tension membrane technology has already been used in correctional capacities in Pasco County, Fla., which houses up to 104 inmates in a minimum-security annex designed to withstand up to 110-mile-per-hour winds. Additionally, Mecklenburg County, N.C., uses the technology to house both inmates and recreational activities, and the Charlotte North Jail Annex in Charlotte, N.C., operates a 640-bed jail addition in a tension membrane structure. Perhaps one of the largest examples of tension membrane use in correctional capacities is at the South Texas Detention Complex in Pearsall, Texas, which operates a 2,000-bed processing facility. In Canada, British Columbia has been using the technology to house offenders since 2008.