Sherburne County Moves Plans for Government Center Expansion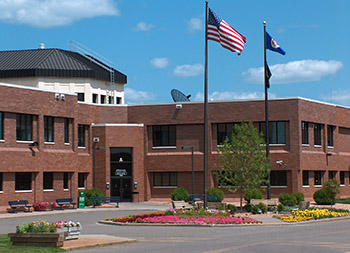 ELK RIVER, Minn. — The Sherburne County Board of Commissioners decided to move into the schematic design phase of a proposed expansion to the Government Center located in Elk River. St. Paul, Minn.-based BWBR Architects will spend about three months in the schematic design phase, followed by another three to four months of design development.
"The goal of the project is to provide the necessary services in a cost-effective manner to support quality of life for Sherburne County citizens," said Lynn George, grant and risk coordinator for the county. "In order to better serve the citizens of Sherburne County, the Board of Commissioners decided to build a new wing onto the existing Government Center that will centralize the judicial services including court administration, courtrooms and community corrections. The plan calls for accessing the new courts wing through a common access point although the courts area will have security screening."
SC Times reported that the three-story courts wing would include five courtrooms on the second floor and probation and court administration on the first floor. Part of the third floor would be leased to the 10th Judicial District for courtroom space, and the rest would be left unfinished until needed by the county. Leasing space to the 10th Judicial District would help provide revenue, according to SC Times. The current Government Center as well as the new wing includes holding cells for individuals awaiting trial, George said.
The project is estimated to cost between $36 million and $44.5 million, reported Star News, but the Board of Commissioners hopes that revisions will be made during the schematic design phase to help save money and maybe even space. The conceptual plans currently include 90,000 to 110,000 square feet in additions and another 110,000 to 130,00 square feet in renovations.
"Attention will be given to safety and security of the facility for visitors and staff, improving wayfinding and circulation, and increased efficiency and reliability of campus heating and cooling systems," George said. "Further, upon completion, the Government Center will include space for tenants such as the Department of Motor Vehicles and Soil and Water Conservation District to create a greater opportunity for one-stop shopping for citizens."
The county will work with BWBR and Minneapolis-based Adolfson & Peterson Construction to make the appropriate decisions about the structural grid and systems and the foundation so that the project will move quick enough to break ground before winter comes in 2016, according to Star News. If all goes according to plan, the project would be competed in late 2017 or early 2018.
The Board of Commissioners' goal is not to increase its tax levy for the project, SC Times reported. The county has been setting aside cash reserves for the expansion, which would cover about one-third of the cost. A capital improvement bond would cover the remainder.