Springhill Institution Finally Accepts Inmates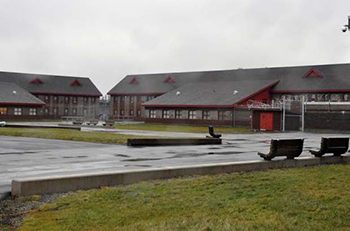 SPRINGHILL, Nova Scotia — Two, 96-bed units built as part of a $40 million expansion to Springhill Institution finally began accepting inmates after remaining empty for a year because the cell doors wouldn't lock. The medium-security institution began accepting inmates into one unit on Sept. 29 and into the other at the beginning of December. London, Ontario-based EllisDon Corp. served as the general contractor on the project.
Construction of the expansion was already a year behind schedule when it was completed in 2014, and officials discovered there were malfunctions in the computerized lock system, leaks in the showers and faulty light bulbs, reported National Post. Current security systems are controlled by a combination of computer monitors and touch screens. Officers sitting in a control center grant requests by other officers to open specific doors at specific entrances.
In 2009, the system malfunctioned at the Penetanguishene, Ontario jail, resulting in doors either not opening or opening at random times in the night. The jail was able to still house inmates in the cells, however, because they could be opened with a traditional lock, according to National Post. Similar problems have occurred at the Toronto South Detention Centre since it opened in 2014.
The Toronto South facility operates on what Rodger Noakes, president of the Ontario Public Service Employees Union, Local 5112, calls a fully integrated system, according to National Post. The system controls everything from the lights to the locks to the water to the elevators and intercoms, which means the entire system can go down if one thing malfunctions. Noakes added that inmates at the facility figured out how to open locks and pop off door hatches and even shattered more than 1,000 windows after the wrong glass was installed.
The prison works as a reception institution for Atlantic Canada in which inmates sentenced to more than two years in prison spend their first 60 to 90 days in Springhill before being transferred to another Canadian facility. After construction, it can house 59 inmates in the reception center and another 577 inmates in the prison.
Since the locks were fixed and the facility began housing inmates, the prison has held less than 400 inmates — 367 inmates at the end of December and 378 a few weeks before one of the units opened in September, according to National Post. At the time of the expansion announcement, the prison was holding 397 inmates.
Springhill was the first prison to be expanded as par tot the government's $2.1 billion plan to add about 2,700 beds to correctional facilities across Canada in order to make room for the increase of inmates as part of the recent tough-on-crime legislation, reported Herald News.