Wyoming Prison Faces Structural Issues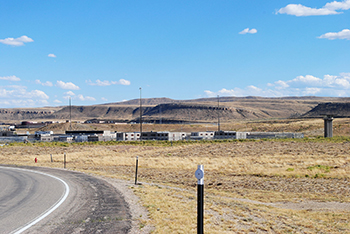 RAWLINS, Wyo. — On Feb. 9, Wyoming's corrections chief told state lawmakers that fixing structural problems at the Wyoming State Penitentiary in Rawlins would cost $85 million, about as much as it cost to build the entire prison 15 years ago. Correctional officials have also estimated it would cost $160 million to build a new prison from scratch, reported the Associated Press.
Wyoming correctional officials have been monitoring cracks in the walls of the state's only maximum-security prison since 2013, according to Wyoming Tribune Eagle. In a Feb. 9 address to lawmakers, Wyoming Corrections Department Director Robert Lampert requested the necessary funds to address the prison's cracking walls, floors and other necessary repairs. The state's Joint Appropriations Committee endorsed Lampert's request for $7 million in the coming fiscal year to protect a room that houses the prison's core electrical system and a gymnasium roof, according to the Associated Press. The committee also approved an additional $13.5 million to add 144 beds to the state's medium-security prison in Torrington, which would be critical if the state has to move inmates from Rawlins to work on repairs.
Engineer John S. Lund briefed Gov. Matt Mead and other state officials in January about the prison's structural problems. The Associated Press reported that Lund said the Rawlins prison is structurally safe for staff and inmates, but that could change in the coming years unless repairs are made. Interior walls and floor slabs need to be demolished and replaced, and extensive work needs to be done to the building's foundation. Plus, any mechanical, electrical and security systems affected by the projects would also need to be replaced, Lund said.
The current Wyoming State Penitentiary replaced the North Facility prison, which the state had to close due to similar structural concerns as a result of groundwater issues that caused the building to slowly sink. As such, several lawmakers who voted 15 years ago on the replacement facility are shocked that issues have been repeated in the new building, according to the Associated Press.
Senate President Phil Nicholas, R-Laramie, plans to introduce a bill to merge the state offices that oversee school capital construction with the capital construction office at the Wyoming Department of Administration and Information. The bill would create a new cabinet-level post to oversee construction projects and be responsible for bringing projects in on budget, on time and in line with the building standards discussed in the initial investment.
The state is waiting to vote on funding the repairs until expected costs can be analyzed against the expected service life of the building and other expenses. Nicholas also asked the corrections department to analyze the cost of keeping the prison in Rawlins versus relocating it to an area closer to medical care and other services, according to the Associated Press.