Revised Alabama Prison Construction Bill Dies in State House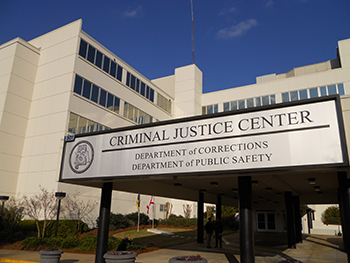 MONTGOMERY, Ala. — Alabama Governor Robert Bentley's multi-million-dollar plan to build four new prisons across the state died on May 4 when the state House failed to vote on an amended version of the Alabama Prison Transformation Initiative Act prior to its expiration time and the end of the Legislative session.
Both the House and Senate had approved different versions of the bill in April and March respectively, and members of the Senate voted 23-12 on a version that reconciled the earlier two. That version trimmed the project's total budget from its original $800 million to $550 million and downgraded new men's prison construction from three facilities to just two. Plans to construct a new women's prison and to hire one firm to manage both design and bidding for the two Senate-approved men's prisons had remained intact in the revised version.
House Speaker Mike Hubbard, R-Auburn, told the Montgomery Advertiser the legislation did not have the votes to break a possible filibuster, and that changes made to the already complex bill were too complicated for House members to properly consider in the few hours available to them.
"I don't want to pass something that looks like it was written on the back of an envelope in two hours," Hubbard told the Montgomery Advertiser. "This was something we had worked on for months, and were really comfortable the numbers worked."
House members had originally voted 52-33 on a version of the Alabama Prison Transformation Initiative Act that includes minor changes to version originally passed by the Senate.
The Alabama Prison Transformation Initiative Act aimed to reduce overcrowding and improve safety conditions for both inmates and correctional staff, allow for additional inmate re-entry programs and to improve operational practices and procedures for the Alabama Department of Corrections (ADOC). Many of the state's existing prison facilities were built decades ago and suffer from age and inefficient designs that hinder operations, increase maintenance and repair costs, and have also increased costs of transporting inmates from prison to medical care facilities. Additionally, correctional and support staff costs have jumped due to the system's geographic disparity and increasing medical costs due to inefficiencies in delivering medical services to inmates, according to a statement by Gov. Bentley's office.
Gov. Bentley issued a statement expressing his disappoint in the bill's failure, but also that he is not yet willing to give up. "We came very close yesterday to getting [the bill] passed, at least some form of it," Bentley told the Associated Press. "Time just seemed to run out." Bentley also noted that he could not rule out a special session to reexamine the revised bill, but shared no details as to a potential timeline.
Had the original bill been successful, construction would have begun on the new prisons in the fall of 2017.