Facility of the Month: Stanislaus County Emphasizes Rehabilitation
By Jessie Fetterling
The March 7 dedication of the Stanislaus County Public Safety Center expansion in Ceres marked a historic moment for California corrections. It was the first project in the state completed using AB 900 Phase II funds that invested up to $1.2 billion in the second round of the $7.4 billion in AB 900 funding initially authorized in 2007. At the dedication ceremony, Governor Jerry Brown and county leaders unveiled a gold dedication plaque recognizing both the state and Stanislaus County's commitment to public safety realignment.
The public safety center expansion Projects 1 and 3 total approximately 170,000 square feet across several facilities. Project 1 contains 480 new beds spread across two new maximum-security units. An additional 15 hospital beds and 57 beds dedicated for inmates with medical, mental health and substance-use needs bring the total bed count to 552. Project 3 includes an intake, transportation and administration center.
The county previously opened a 14,000-square-foot Day Reporting Center in 2015 as Project 2 in the three-part public safety center expansion projects. The $4.5 million Day Reporting Center supports those on probation and/or those who are released from custody by offering programs that help them work towards a productive future.
A fourth project is currently under construction, which includes the 288-bed Re-Entry and Enhanced Alternatives to Custody Training (REACT) Center scheduled to be completed and occupied by the beginning of next year. REACT will focus on evidence-based programming services for in-custody and transitioning adults, funded 90 percent by Senate Bill 1022 state funding.
The expansion of the Stanislaus County Public Safety Center first began in August 2014. The Sacramento, Calif., office of Dewberry served as the architect of record for Projects 1 and 3, and teamed with San Jose, Calif.-based Hensel Phelps, who served as the design-builder. National architecture firm HOK provided expertise and acted as the criteria architect on the project. The total budget for the first three projects totaled more than $114 million. The county received $80 million (or 90 percent) from the state and used $9.5 million (or 10 percent) with a local county match. Project 3 was built (also by Hensel Phelps but under a separate contract) with a project budget of $24 million funded entirely by the county from Public Facility Fees.
"The main goal was to modernize our detention facilities operated by the Stanislaus County Sheriff, and that's really important because our top goal is to ensure a safe community," said Patricia Hill Thomas, chief operations officer for Stanislaus County. "From a safety perspective, we needed to modernize and make [our facilities] safe for our staff, the inmates and visitors."
The facility was intended to increase the county jail's housing capacity as well as provide the ability to launch new programs aimed at decreasing recidivism rates and provide better access to medical and mental health care. As the first California county to take on three major justice facility projects all in partnership with the state of California, Stanislaus County quickly became known as a leader in the programming and rehabilitation efforts that the state is hoping to achieve, according to Hill Thomas. The first project was a juvenile project that opened in 2013, the second was the Stanislaus County Public Safety Center and the third is the REACT re-entry center.
"We understand that detention facilities need to be part of the continuum of stopping the cycle of recidivism," Hill Thomas said. "While these facilities [within the public safety center] are maximum-security facilities from a bed perspective, we did not have that type of bed in our inventory for the last several decades. Unfortunately, we need that, but we also need all levels of incarceration that allow inmates to change their lives. Even in a maximum-security, state-of-the-art jail, there are program opportunities in that facility."
Moving into the Future
This project went well beyond the idea of adding bed space, program space and simply modernizing for future needs. The county wanted to develop a public safety campus that embodied and supported the entire inmate cycle.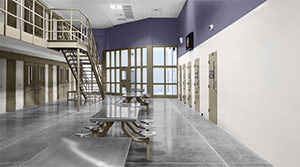 When this project was initiated, counties were just starting to feel the effects of realignment, according to David Crotty, vice president and senior project manager for HOK. While this helped to relieve the overcrowding at prisons, it had a disruptive effect on jails. The inmate population for jails increased and also included a much broader range of backgrounds and needs. Further, this shift meant longer average sentences for those incarcerated. The changing population also meant that custody needed to be more vigilant in managing potentially combative populations, according to Crotty.
"We needed to have housing units that were separated and [we needed] to create circulation paths that continued that separation," Crotty said. "Further, the addition of medical and mental health treatment areas was necessary. The public safety center design includes a clinic, special-use beds and sick-call spaces directly in the unit."
The mission here was to close down unsafe jail beds and develop a safe and secure plan to house and rehabilitate inmates. "It takes inmates the full cycle of incarceration to [get to] freedom or to become a productive citizen, and this vision is nearly fulfilled," said Crotty. "The county is currently building a re-entry building, which will complete the cycle."
Read the entire article in the July/August issue of Correctional News magazine.