Illinois Continues to Battle Over Prison Closures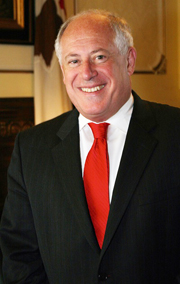 SPRINGFIELD, Ill. — The topic of prison closures has been an ongoing discussion in Illinois and perhaps an ongoing headache for Illinois Governor Pat Quinn.
Now, the Senate has moved against Quinn and his stance on cutting funds to prisons in Illinois. Last week the Senate voted 35-16 against Quinn's veto of funds for the prisons.
The issue has been plaguing the state for some time. Earlier this year, Quinn made headlines when he approved the closure of Tamms, the state's only supermax prison. There was controversy around the event but Quinn assured all parties that it was the best move for the state.
Quinn cut funding for the facilities last spring, arguing they were overcrowded. However, opposing lawmakers say closures will only make the system more dangerous.
The reason for closing the prisons, according to statements made by Quinn, is an attempt to cut the state budget and adjust state spending to accommodate rising employee pension costs.
Since the Senate has recently stood up to Quinn's decision it could possibly mean a shift in his decision — but it remains unclear whether the Senate's ruling will be able to stop Quinn, who could simply choose to ignore the legislature.
Many of the criticisms of Quinn's plan come from those who believe it is actually an issue of overcrowding that will not just go away if funding is stopped.
"You're going to have to do something with these people," said Sen. Gary Forby in a statement. "Where are you going to put these people?"
Those in favor of Quinn's decision say the facilities are not managed properly and by closing them taxpayers would save money. Tamms costs taxpayers approximately $65,000 for every inmate housed at the facility, which is the highest of any DOC facility.
The John Howard Association (JHA) has worked on several reports regarding Quinn's decision to stop funding for certain prisons in the state. In JHA's statement on Quinn's closure plan, the group discusses the reasoning behind Quinn's action and says, "Ultimately, DOC staff and administration cannot control overcrowding on their own. Having decided to close these adult correctional facilities, Governor Quinn must partner with state legislators to safely decrease Illinois' prisoner population."
The JHA's statement continued to say, "Together they must work to execute on-going reform efforts and implement measures that have been used successfully to reduce prison populations in other states."
The JHA believes that Illinois should use the state's prison system to treat violent offenders and reduce costly overreliance on incarceration by employing alternative sanctions for low-level offenders who swell the state's juvenile and adult correctional facilities, according to JHA's statement.
Since there has not been a firm agreement from Quinn and the Senate, it is likely that Illinois will continue to battle over this issue until the bigger issue of prison overcrowding can be solved or at least managed effectively.