Kalamazoo Jail Anticipates June Opening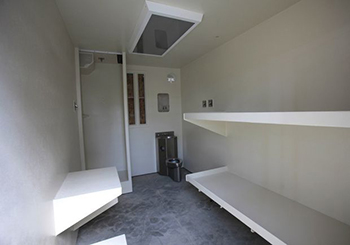 KALAMAZOO, Mich. — The second of two major expansions to the Kalamazoo County Jail is now on track for a June 2014 opening. The first 75,000-square-foot addition to the main jail structure opened in spring 2013, adding more than 90 cells to the chronically crowded facility. Upon completion of this final phase, the jail additions will comprise 58 two-person cells, 20 four-person cells and 15 cells dedicated for medical use.
Though the county's original jail structure was rated for just 327 inmates, it often far exceeded that limit, posing a safety risk to both staff and the greater community. In the original building, which was completed in the early 1970s inmates were often housed in neighboring counties due to lack of space.
In response, the county conducted a feasibility study in 2008, and twice put construction of a new jail to voters. After both attempts were rejected the county dug into its savings to complete a $23 million renovation and addition project that streamlined and improved both services and operations.
The large-scale upgrade was completed in phases, allowing certain areas to be brought online while others remained in development. The new laundry and kitchen were some of the first facilities up and running in the initial addition, followed by four housing pods. Gradually the new intake and processing areas, which feature a separate entrance and exit for inmate release, as well as the new medical wing, also became operational.
The medical wing in particular was a considerable improvement on the original facility. It features 15 cells and a specialized ventilation system, decreasing the chances that illnesses may spread between inmates. The area also includes onsite health care staff and dental capabilities, helping keep inmates on site for some procedures and reducing transportation costs.
Where the original jail structure used the traditional method of placing cells along a straight corridor, the expansion features a circular pod design, reducing inmate movement throughout the facility. Correctional officers are now based in a central location from which they are able to observe all inmate activities. Video arraignment and visitation, as well as showers and lavatories, are also located within these pods to further limiting movement.
The well-designed new additions will also help jail staff to better maintain safety and security. The new structures allow officers to more accurately divide and categorize inmates based on their crimes, sentencing status and level of risk, allowing staff to focus more on high risk and high needs inmates. A walkway area behind the insulated, pre-cast cells also allows necessary repairs to be conducted without disrupting inmates or bringing tools into housing pods.
Byce and Associates of Kalamazoo and RQAW Corporation of Indianapolis collaborated on the jail designs, which were completed in 2010. These designs also included the input of representatives from the sheriff's office and other county departments, ensuring the facility would be as effective as possible.
Construction began in the fall of 2011, and Miller Davis, also of Kalamazoo, served as the project's construction manager. Upon completion, the jail is estimated to meet the county's needs for up to 60 years, and was planned in a way so that it could be expanded to up to 1,000 beds in the future.